Read Time:
8
minutes
It's the new episode of this segment: Empower Your Life, where the aim is nothing but to bring positivity, encouragement, motivation, and aspiration towards your dreams or goals that you have wanted to pursue for a very long time.
In every episode, I want to tackle not only for those people who wanted to start a business, build a community to support other people in need, or empower a healthier lifestyle, but I also want to bring awareness to everyone about the importance of how being wise handling your financial – and this is the episode is all about.
I'm super honored and grateful to be able to interview Michelle Lee. Not only such an inspirational woman with a big heart; such a humble person as well. She has recently been shortlisted as a finalist for Financial Adviser of the Year in upcoming Asia Trusted Life Agents & Advisers Awards 2021 – I happen to know this during the interview itself. So, let me share with you a little bit about Michelle Lee.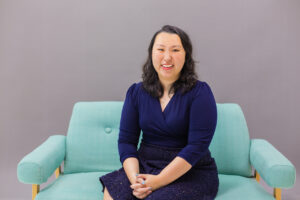 Michelle Lee is the founder of Legacy Edge based in Singapore, which she covered in the interview about how it all started and how she thought that her business could be a one-stop station for all your financial needs.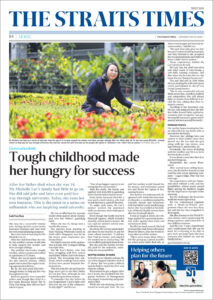 As a result, she has attained the 2021 Court of the Table accolade. As an all-rounded recognition of excellence awarded by Million Dollar Round Table (MDRT), a global premier association, this also means that she represents one of the world's best professionals in the financial services industry. She was also one of The Straits Times Generation Grit 2020 nominees for inspiring others with her resilience and heart for the community; her motivation is to empower women to achieve financial literacy and freedom via investing – we covered this as well in the interview.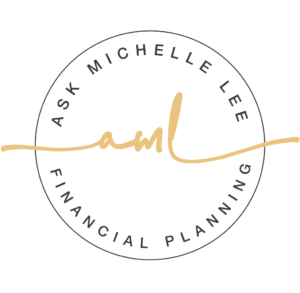 She is also experienced in blockchain and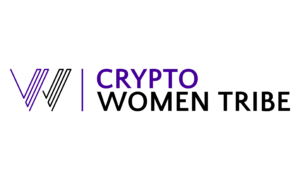 cryptocurrency, and she regularly teaches to her community of women at @cryptowomentribe. Her vision is to make every woman a crypto investor. So if you want to know about crypto – she would be very HAPPY to discuss it with you as she's so passionate about it as well. She's a remarkable woman 😍. You can check below the video link and article as well from News Sites:
Generation Grit: Helping others plan for the future
Tough childhood made her hungry for success
So, let's all check in the Zoom Interview, shall we? 😀😀😀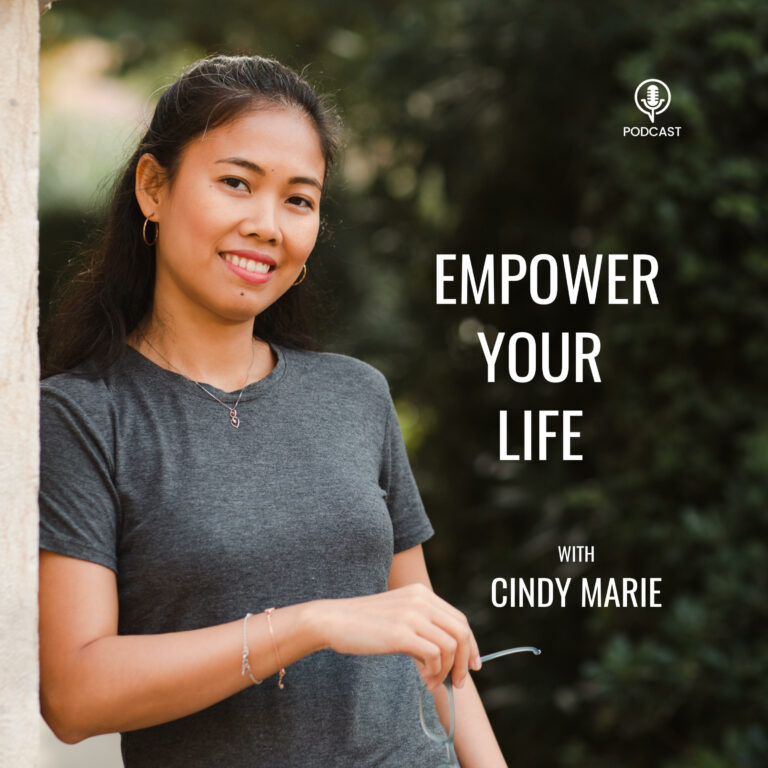 Empower Your Life with Cindy Marie
Empower Your Life Show's goal is to help you move forward to shine your full potential. In this show, Cindy Marie and guests share their unique stories about how everything started and share actionable tips, tricks, routines, mantras, and principles to bring out the greatness within you – with lots of fun and realness. From social businesses and career transitions to addressing failure and fear. To philanthropy and doing our part to make the world better than we found, here to inspire, makes you stronger and more confident, and create the business and life you deserve.
How To Be Wise with Money? Let's Ask Michelle Lee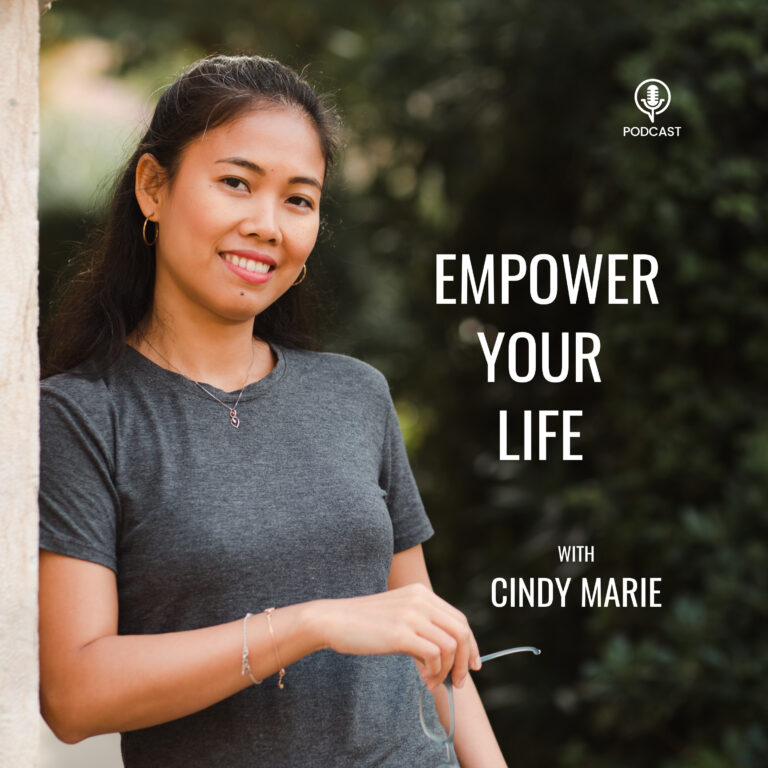 Time Stamps
03:13 – 10:11 Story of Legacy Edge
10:11 – 14: 02 Finalist for the 6th Asia Trusted Life Agents and Advisers Awards 2021
14:02 – 22:05 Empowering Women to Start Investing+Build Passive Income
22:05 – 28:11 5 Saving Tricks on Day-to-Day Expenses
28:11 – 29:40 Financial Tips to Consider Before Starting a Business
29:40 – 31:11 How Do You Keep Yourself Optimistic?
31:11 – 33:56 Where Can We Find Michelle Lee (Legacy Edge)?
Key Takeaways From The Interview:
Writing A Will
When Michelle shared her story about how it inspired her to build Legacy Edge was strongly coming from her personal experience, the lack of planning where the money will go, a.k.a "The Will."

I learned that you don't have to be rich or old to write a will, not only for wealth but also for responsibilities. Certainly, you can write a 'Will' without a lawyer (still, it's advisable to seek professional help to ensure that you don't disobey any laws or rules in the country) – and I guess this is why many people are still not doing this because of wrong beliefs or lack of awareness.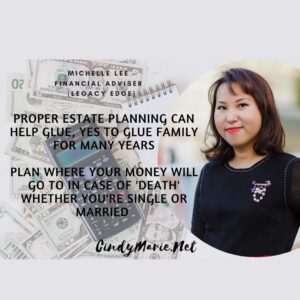 I know money-talk can be quite sensitive, but while we're young, healthy, doing great with our career, capable of taking charge of our responsibilities, and having enough savings – like what Michelle mentioned, plan where your money will go to in case of 'death' whether you're single or married – you can update your 'Will' regularly or yearly in case of any changes.

I strongly believe it will avoid conflict with your family and give you and your family peace of mind. In some countries, state law will likely decide where your assets or money will go or even your responsibilities; we don't want all of these will fall into the wrong hands. Try to consider, understand the importance of writing a 'Will,' and perhaps to start…Of course, the choice is yours to make 😇.

Like how I was curious to ask Michelle if she already wrote a 'Will' and you might wonder the same if my husband and I discussed it, and the answer is a 'Yes' – not an easy topic to discuss, but it's part of having an adult conversation 😊.
Progress Not Perfection

Michelle and I talked about it in the part of Empowering Women in Investing + Build Passive Income. Like how Michelle said, 'Don't seek perfection; most women seek perfection; want everything to be in profit. Like how to manage households – it's different for investment.' And it's not only women but the majority of us – one of the reasons we can't move forward because we're seeking more into perfection.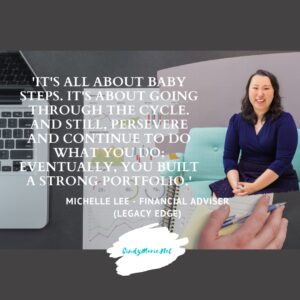 And honestly speaking, I still have this tendency sometimes; I can't get over something if I didn't put it to perfection; I will keep on changing or repeating until I feel like it's perfect. Not that I'm saying you shouldn't put the best version, but what I'm trying to say, you can't expect perfection in everything that you're doing (Life is complex anyway 😉)- as Michelle mentioned, it's all about baby steps. It's about going through the cycle. And still, persevere and continue to do what you do; eventually, you built a strong portfolio.'

So, in life, don't seek perfection but progress – show up and give your best every day, stay invested, look at what you can work on, improve on, and discover more about yourself to something that you can offer to the community – life is all about the journey of learning and discovering new possibilities…

In investing, if you're not ready to put a big amount of money; so don't, just put the amount of money you're willing to and, that's what Michelle is there for – to guide us, and let us feel that we can do this as well. As she said, Don't freak out. There's always someone to guide you along and to ensure that you're not doing the wrong things – you are in good hands.
5 Saving Tricks on Day-to-Day expenses
Saving X% of Your Income
For Michelle, she's saving 80% of her income – this may be too much for most of us, especially if we don't earn that much or have some responsibilities to pay; the idea here is to save money every time you receive your monthly salary. In addition, some banks offer automatic savings transfers that help you save regularly with less hassle, and it reduces the temptation to withdraw – check your bank if they have this type of service you can start using.
The other way is also by opening up a new bank account that strictly for Savings only – when I was still working in a corporate job; I used to do this – I transferred my savings to my 'strictly savings bank account' and only rely on using the remaining balance from the first bank account – that way you also practice discipline – to reduce temptation as well.
Live Below Your Means
Means – do not spend more than you earn. Especially with our current situation, let's be more cautious with what we spend and really think of what we need, like really what we need, not 'what we want or because of impulse buying. You'll have a brighter financial future when you live below your means, just like how Michelle and I exchanged information about this tip over the interview.
Budget & Track
The significant part when trying to save money; Budget and Track. Try to apply rule 50/30/20, and for sure, you'll see a great result. Budgeting helps you to stay organized and focused on your financial goals.
And don't forget to track where your money regularly goes; in this way, you will eliminate bad spending habits in your financial life. The more you track your spending, the more you control your finances, the better financial habits like saving more, and just what Michelle is encouraging us to do; to invest.
Planning
It relates to budgeting; you plan so you'd know each month you don't overspend. Michelle shared when buying meals or food – she doesn't spend on food delivery. She makes a way to walk to buy her own meals or buy groceries to make her own meals. Plan your meals, and I highly encourage you to make your own meals at home -you may feel it's a lot of work to do, you're not wasting time, you're gaining more than just saving; you also taking care of your health.
And to avoid impulse buying, make a list when doing groceries, online or retail shopping.
Tithe 10% Income to the Church
For believers like Michelle, she strongly encourages everyone to tithe 10% to the Church or Creator or God; to give the first fruit of labor to God or the Creator. It's free will.

Here are some articles that I thought would be valuable for your reading as well for Saving Money:
Tips for Saving Money in Your Daily Life
How to Save Money: 17 Proven Ways
Budgeting 101: How to Budget Money
Top 11 financial New Year's resolutions and how to fulfill them
Michelle's Financial Tips To Consider Before Starting a Business

* If you plan to have a business course, you need to cover at least 2 years. That covers the shop's rent, staff, and your salary.
* Budget Planning
* Cost-Benefit Analysis
* Get Business Plan in Place
* Start With Baby Steps (3 months milestones, 6 months milestones, 1 year, etc.)
* Get A Bank Loan
* Get Investors On Board

Below articles that might be valuable for your readings related to Financial Tips before Starting a Business:
10 Useful Financial Tips All Businesses Should Follow
Closing the gap: How to overcome obstacles as a female entrepreneur
Starting Your Own Business? How to Prepare Financially [Actionable Tips]
How To Keep Yourself Optimistic?
Meditate
As a practiced Christian, Michelle meditate on the word of God. For the rest, meditation is a very highly powerful practice to calm every part of your body. There are plenty of ways to meditate that you can experiment and find what works for you – for me, I listen to either jazz, chill, meditation kind of music, and I close my eyes or sit down and relaxed on the balcony while being present at listening.

Valuable Articles to Read:
Which Type of Meditation Is Right for Me?
How to Practice Music Meditation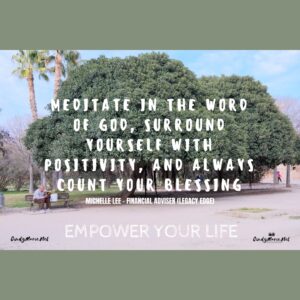 Surround Yourself with Positivity
If you're a regular reader or viewer of my Empower Your Life segment, you will notice that majority of the interviewees I had, had the same practice – surround yourself with positivity; not only with people but also with the activities you do, like reading or listening; have a great impact to keep you Optimistic. Especially in our current situation, we don't want to feed ourselves with more negativity but choosing wisely with what adds value in life to keep us Optimistic.

Stay Optimistic by reading the below links:
The Importance of Surrounding Yourself With Positivity
#8 Ways to Surround Yourself with Positive Energy

Count Your Blessings
Always, always count your blessings, even tiny little things. But, unfortunately, nowadays, with the internet and social media, where everything is almost accessible, and most of the people tend to share only the highlights of their lives – we all tend to compare our lives with others and forget the importance of practicing gratitude and how blessed we are in life. So, practice gratitude daily, and I can guarantee you that you will be happier in life.

Always count your blessing, be grateful, have a gratitude list. Before you sleep, thank God for 3 things that you have in life or have happened in your life. – Michelle Lee
And that's it! I hope you find the Zoom Interview I have with Michelle informative, inspiring, and motivating, especially considering investing. I hope these key takeaways also will serve as your guidelines when considering starting a business, saving money, or how to keep yourself optimistic.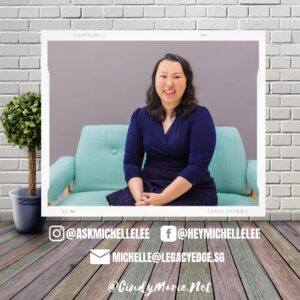 Please check her website for more details of her business's services to directly connect with Michelle Lee. And do follow her social media accounts as well, where she actively shares great financial content, especially if you're passionate about cryptocurrency – definitely must follow Michelle Lee. 🙂
If you find this blog post valuable, I would appreciate it if you could share it with your friends and families or tag me on my social media account(s) to thank you as well. Also, please share your comments below – it would mean a lot – this helps me look for more valuable ideas or content to keep on sharing with you.
If you know any solopreneur/entrepreneur who newly started their business or anyone with a great story behind the new journey they're taking, share the same values, and will be a great addition to this segment. Let's connect. 😀
Stay safe, share love, be kind, focus on the positive side, and until next time!💖💖💖


Follow me on my social media not only for more inspiring, motivational posts, but you can also view my passion for singing, cooking, photography, and dancing 🥰:
CindyMarieAzur
*Please be aware that the links are affiliate links. By clicking them and purchasing through them, you're helping me to earn small credits! Thank you*
Photographs
The majority of the photos are owned by Cindy Marie, and Legacy Edge.
DISCLAIMER: All rights reserved to the owner of other photos—no copyright infringement intended in this article.