PODCAST
EMPOWER YOUR LIFE with CINDY MARIE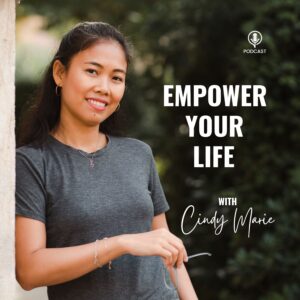 Empower Your Life Show's goal is to help you move forward consistently to shine your full potential. In this show, Cindy Marie and guests share their unique stories about how everything started and share actionable tools and methods to bring out the greatness within you – with lots of fun and realness, from social businesses and career transitions to addressing failure and fear. Here to express, not to impress. To philanthropy and doing our part to make the world better than we found, here to inspire and increase your positivity, help you break the limiting beliefs, gain more personal power, and make you stronger, more confident, resilient, and more authentic while creating or growing your business and the life you deserve.
SUBSCRIBE
Don't miss any episode
Let's Shift that Mindset and Strengthen Emotions – Time to Transform Your Life!

I have experienced many challenging chapters in my life, and still continuously learning with many beautiful events that are helping me grow – I may not fully understand the unique struggles you're facing today at work, home, personal life, business, and most importantly, relationship. And here's the truth — I know there's always a way for you to be better and move forward powerfully toward something you truly desire.
I am here to guide, navigate, and serve as a tool – so that you will slowly but surely experience the possibility and probability of having the life, business, relationship, or career you want and feel fulfilled with peace and abundance. I'm here to Coach you in every aspect you want to elevate. I'll be here when you're ready.