Read Time:
8
minutes
Welcome to my third episode of the Empower Your Life segment! This segment aims to bring motivation, encouragement, inspiration, and positivity towards your direction that you've wanted to achieve for a very long time.

With every guest that I have, I hope to tackle as many relatable questions as possible to bring learning and great tips to all of us. Most importantly, to share with us what keeps them optimistic or positive. I call it the final highlight for every interview 😀.
Let's talk about Claudia Mayer 😍. I met her in Singapore a few years back at a networking event; currently, she's in the Netherlands with her family. She's an amiable and approachable person. I find her very passionate, creative, very optimistic, love to smile, always ready to help, love to explore new things to do or places to visit, and she's excellent at connecting people. And thru her, I met my closest friend in Singapore. I come to know her coaching business through our mutual friend. She recommended contacting Claudia to have a clearer and better path towards the next career I want to take. I'm so happy that she's willingly agreed to help me summarize my skills, interests, and values creatively to have a reference when looking for a new job in the future.
And I want to share with you here a summary that defines as "ME" based on my sessions with Claudia.
This really helped me see clearly where I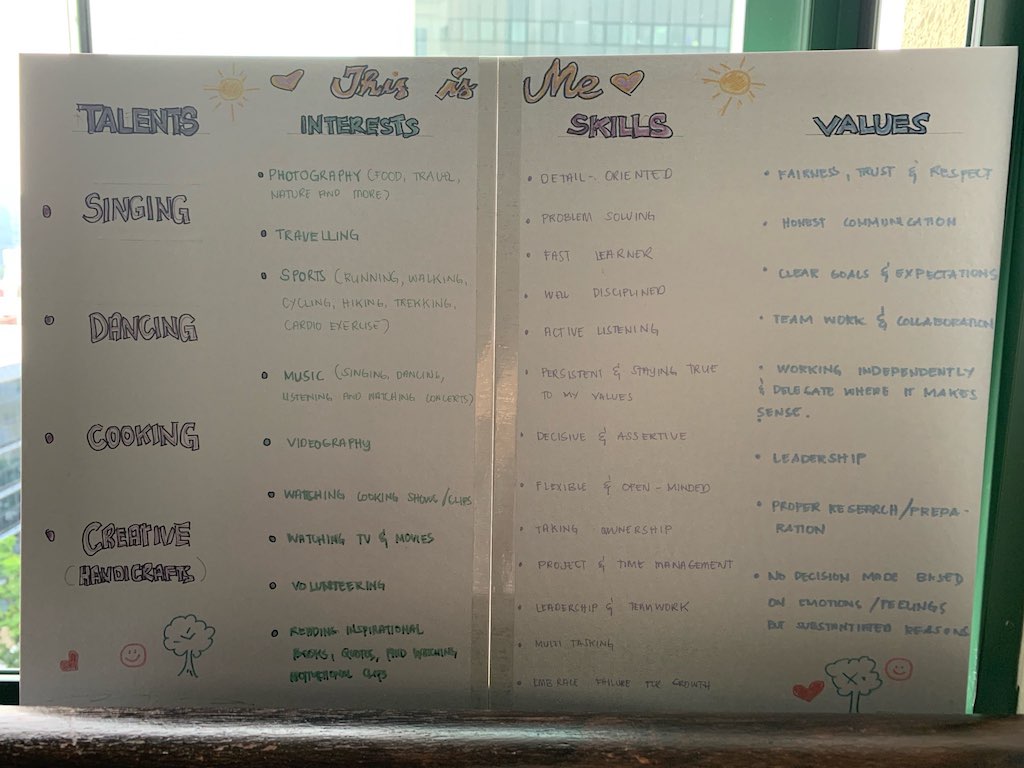 should focus when searching for the company that I want to work with or field of business that I can collaborate with that sharing the same values. And up until now, I always use this as my career map.

In this video, Claudia shared how everything started, her favorite designer tools, her view on how COVID19 affects Creative Industries, tips on how to keep going, and how she balances her career and family at the same time her way to stay optimistic or positive.
Let's click the video to watch it, shall we? 😉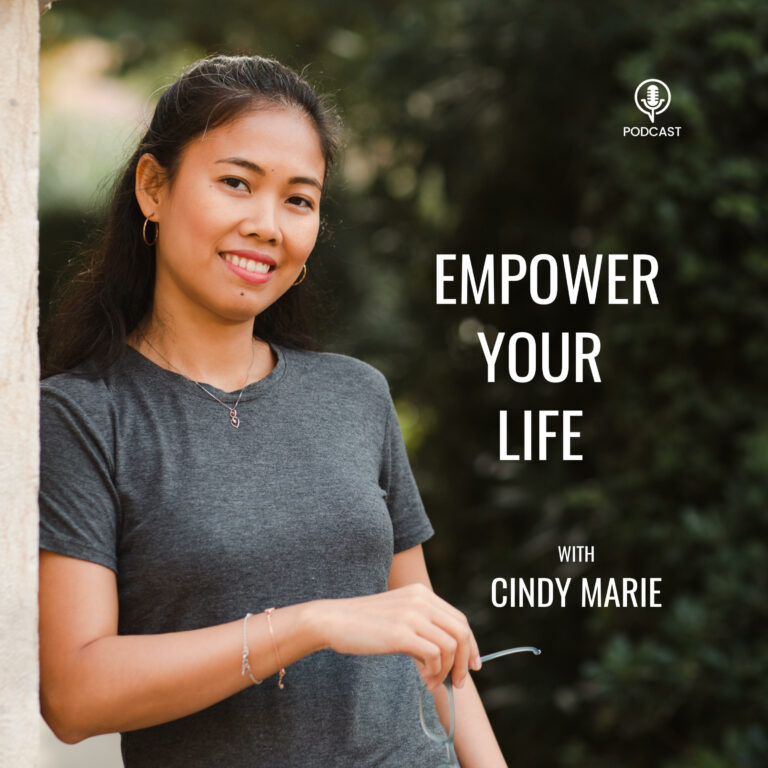 Empower Your Life with Cindy Marie
Empower Your Life Show's goal is to help you move forward to shine your full potential. In this show, Cindy Marie and guests share their unique stories about how everything started and share actionable tips, tricks, routines, mantras, and principles to bring out the greatness within you – with lots of fun and realness. From social businesses and career transitions to addressing failure and fear. To philanthropy and doing our part to make the world better than we found, here to inspire, makes you stronger and more confident, and create the business and life you deserve.
Empowering Designers with Business Coach Claudia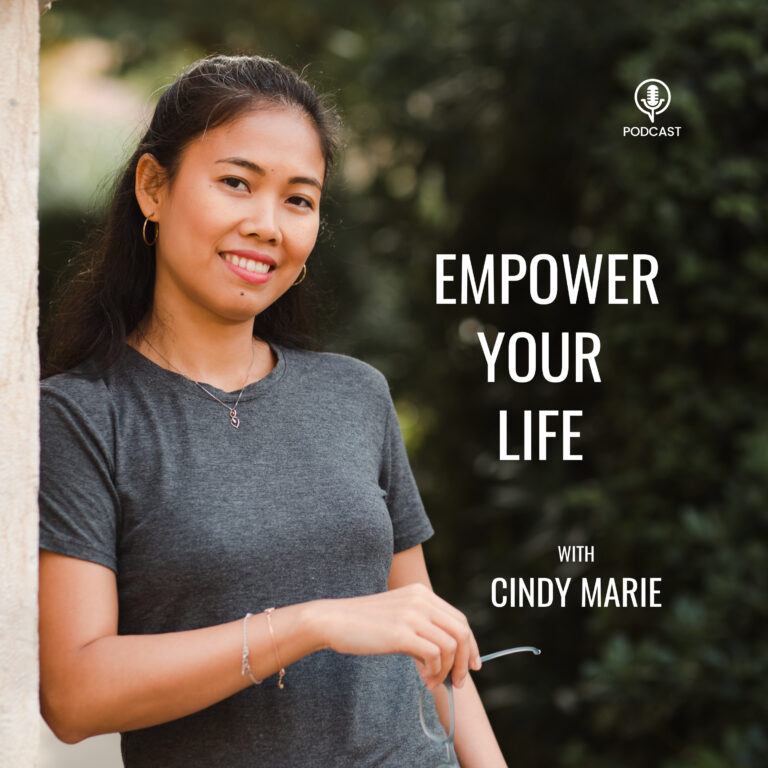 Here are the Key Takeaways from this Interview:
Ask yourself Bigger Questions.
In Life, I always believe that we mostly have 2 choices to make either, yes or no, with the reasons you have in any situation you are dealing with.

In the part where I asked Claudia the question 'What's her purpose or mission starting this business coaching? She shared an absolute truth (I can relate based on my experience 😀)
We have to ask ourselves; what makes us happy and what is meaningful to us?
– It would help if you connect within yourself on a deeper level, especially when you feel that something is missing; therefore, you're not acting on your primary interest or primary purpose.
– It's not always easy to get out of our comfort zone; yes! And it's terrifying to be in the 'unknown land,' the terms that Claudia used. But it's a stage to stage process, challenging initially, but slowly we will get used to it. At least we have to try.

'We, as human beings, are flexible and adaptable,' Claudia highlighted.
I think this is a very positive mindset to practice not only when dealing with challenges in life but on a day to day basis as well.
---
3 Tools that Not Only works for Designers but also Non-Designers
1. Eisenhower Matrix
Claudia explained briefly and concisely how this matrix works, which I think most of us practice; if not, we can practice, especially when we have bigger decisions on a day-to-day basis.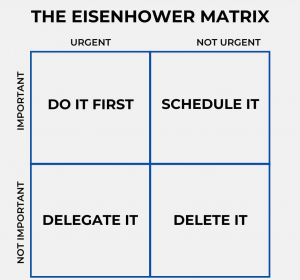 It's a matrix that helps us prioritize our personal or work/business-related tasks.

A quadrant with 4 different boxes; Urgency and Importance, less important, and less urgent.


She explained that this matrix forces you to act depending on how important or urgent the tasks. If Important and urgent basically, we have to do it right now or the soonest. Important but not less urgent, then we can plan or schedule on the later dates. Less important and less urgent, she mentioned that on this task(s), to find someone to do it for you. Lastly, less important and less urgent; forget about it 😀.
And this straightforward tool and, I would say, a beneficial one to use on the daily tasks we have, especially if we're struggling to choose which one to execute first. As mentioned earlier, it applies to both personal or work/business-related.
2. The Golden Circle – The Power of Why
Claudia shared how Simon Sinek explained the power of 'Why.'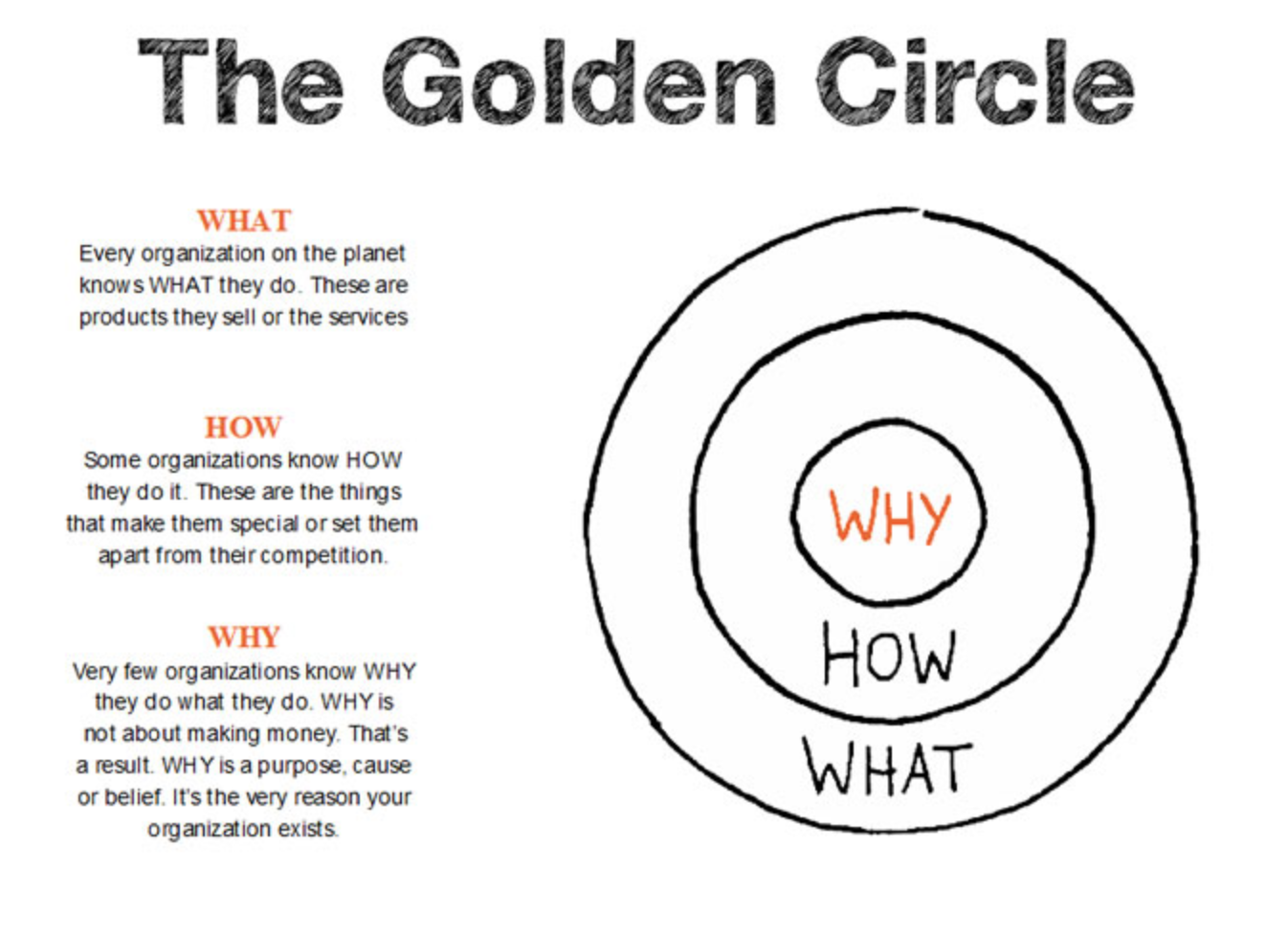 Whether personal, work/business, most of our communication always starts with the most rational – 'What and How.' And sometimes, we forget to share 'why.' Claudia said that we, people connect with others based on interests, based on triggers. Thus, if we share our 'Whys,' others will be easily connected with us because of the same interests or values.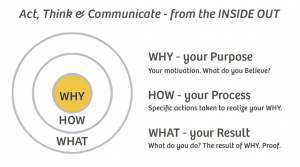 The same thing goes with presenting yourself in a networking event, website, when you need to pitch, and even Instagram on your bio, she added.
Simon Sinek quoted: People don't buy what you do, but 'why' you do it.
You can also check his best selling book: Start with Why to get into deeper understanding.
3. The Value Proposition Canvas
Claudia explained that it's your business plan that comes in different boxes with nine different topics.
And the heart of the business model would be ' the value proposition.'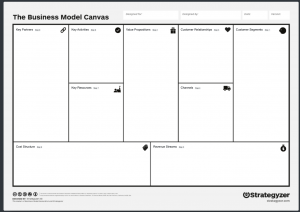 'Why people pay you,' this how she summarised it. The Value Proposition value is basically how your products and services create value for your client's needs. How would your skills or expertise help solve the client's 'pain points,' Claudia added.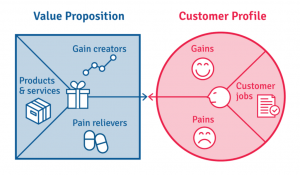 She also used the word 'matchmaking.' That you don't have to sell hard with your client with what you offer, but to understand whether you're a right match to their needs.
On a personal or professional side, your client is your potential employer. Instead of applying for 10 jobs but rather select 4 of them and do in-depth research and elaborate on these connections, Claudia added.

If you want to know more details about this tool – you may refer to the below links for the video and article that I think really valuable to read:
Strategyzer's Value Proposition Canvas Explained
What is the Value Proposition Canvas?
---
Tips to Keep Business on Going During COVID19
Claudia breaks it down into 2 parts: Personal and Business
1. Personal – The Motivation
– She used her coaching story as an example of how everything was so exciting; however, after three or four years, she started having this strong feeling of missing something. She's missing collaborating with people, to have colleagues, or to be part of the team. Thus, she decided to work again, and this time as a teacher in the Creative industry. She stays true to her core values.
She realized how important it is for her to collaborate, be part of a team, or have someone to work with, but not forget to stick with her core values, which still be part of the Creative industry.

And her tip for someone that finds the same challenge as hers; to find an accountability partner that either you can have a zoom call with or in the coffee shop and still focusing your work, but you know there is someone. There is someone that you can be accountable for.

It is very lonely to get up every day, and every day you need to motivate yourself, Claudia stated.
2. Business – Invest time, research your market, and research the markets that are thriving.
– in this pandemic time, most of; if not, the business model has to be modified or changed. Business owners have to start back to zero again and do deeper research, especially if you're not in the field of thriving industries.
Apart from that, studying the market – understanding where they make their buying decision now. Which mostly on screens. Thus, we also have to study or research the markets that are thriving. That can be a home office, electronic gadgets, kitchenware, conference call service, Claudia shared.
Be where your clients are, and think about how your skills could digitally apply to your clients. How to translate your skills into a digital system or corona-proof system, she added.

I would say, thanks to the internet, it makes, if not, everything accessible to search over Google and finds some helpful data or information that we're looking for (in my opinion 😀).
And based on my conversation with her, I sum up 3 things to Stay Motivated:
a. Listen to our inner voice – this voice is giving signs to us for nothing. It's calling us to pursue or to act on our primary interest or purpose in life. So, let's not ignore it. Rather, let's spend time with it and figure out how to execute or act on it.

b. Staying true to your core values. In these tough times, we are in the rawest of our version right now, and it's easy to get distracted or lose sight of who we are especially, with the life of social media. Remember, if it's not within your core values, it will quickly fade. Ask yourself what's important to you, what makes you happy, and what's meaningful to you…I think from there, and it will help you find your authentic values.

c. To keep motivated is also means to be honest to your self. Let's not be hard on ourselves;
▪️Know when we need help – we can get great ideas from like-minded people.
I think it's very important to surround yourself with people who support your goals and share ideas to help you achieve your direction. With this, you will stay focused, and I believe it will keep you motivated as well.

▪️Know when you need assistance – perhaps someone who can help you with skills you're not familiar with.
Seeking help is not a sign of weakness; it is a sign of strength.

▪️Know when we needed a break – to have your body, mind, and soul reset and ready to start again.
We deserve a break; everyone does. In my opinion, knowing when to give yourself a break and knowing when to start again – not only will keep you on track but also allow your body, mind, soul, and heart to reset and potentially will give you more productive results. Easier said than done, yes, I agree. But it's always worth trying.
Remember, taking a break is also vital for overall health 😇.
Balancing Career and Family Life during COVID19
There's no such thing as balance, just daily; day-to-day survival, Claudia claimed. She shared that in the beginning, it was really tough how to manage her online teaching, coaching business while attending to their son when the daycare wasn't open for nearly 2 months. They have to take turns looking after their son. But, as the restrictions started to be more relaxed, she goes to school once a week, and the daycare started to open; they slowly have more stable routines on a day-to-day basis; as we now called, the new routines.

Claudia once again mentioned how flexible and adaptable we are. That in the beginning, we are very skeptical about changing our routines, but through force – we can see that all of us are managing the adjustments and feeling way better about what new routines look like now.

I've learned by listening to her story is okay to say that you're not okay and if it's difficult to adjust. For so long, you also think of finding solutions to better ways of achieving things like Claudia and her husband did.

I leave this quote 'in every challenge; there's an opportunity.' Read and repeat; I thought it's a good mantra to practice. 😀
How To Stay Optimistic
Train yourself to pay more attention to the positive than the negative side of life – Claudia Mayer

It's the reality that there are so many negative things in this world. If we keep entertaining or diverting our attention into that, we also attract negative vibes towards ourselves.

Whatever challenge we're facing can be personal, professional, business side – again, we have the choice and definitely can train ourselves to pay attention to what can help us. What can make us feel better, remind ourselves how far we've come. And there is so much more out there we can think of how to be grateful. Focusing on the positive sides and using the situation as an opportunity instead rather than hindrances. Yes, it's not going to be easy – like I said, it's worth the try 😇.
And that's it! What an interesting, much learning, and inspiring talk I had with Claudia. I hope this episode has been valuable to you. if so, I would really appreciate it if you share with your friends or comment below what you've learned. Or if you find it inspiring, or could be anything, would happy to read it 😇.
And to learn more about her coaching service or to connect with her. Please visit her CoachingbyClaudia website.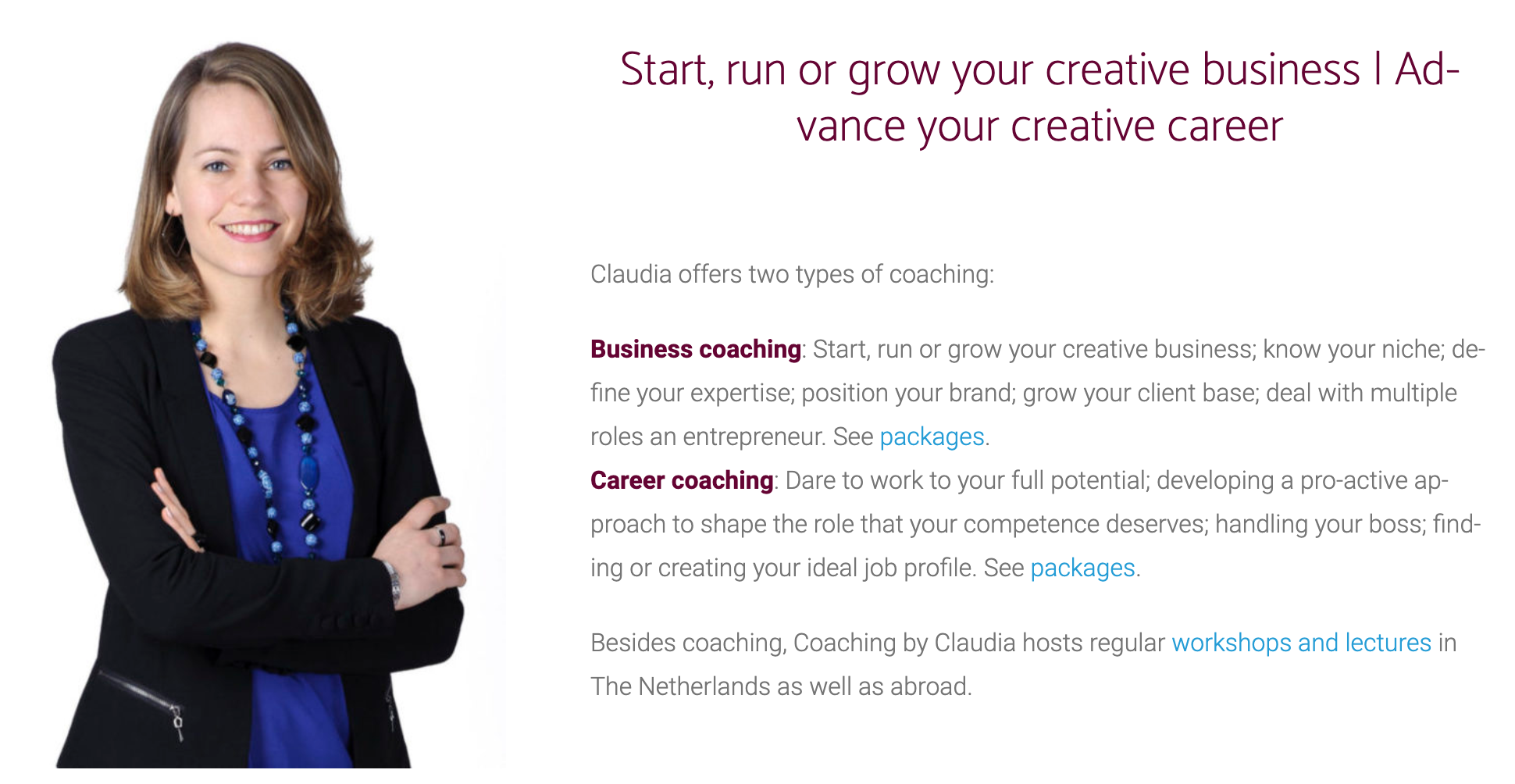 And make sure to follow the Instagram page: CoachingbyClaudia Instagram.
CoachingbyClaudia Facebook




If you know any solopreneur/entrepreneur who newly started their business with a great story behind, share the same values, and will be a great addition to this segment. Let's connect. 😀
Stay safe, stay kind, share love, be kind, focus on the positive side, and until next time!💖💖💖
Photographs
Video with the use of Zoom. Primary filter used and portrait mode thru iPhone – to enhance the quality of the subject. The majority of the photos and videos are owned by Cindy Marie and CoachingbyClaudia
DISCLAIMER: All rights reserved to the owner of other photos (Tool Photos)—no copyright infringement intended in this article.