Read Time:
5
minutes
When you hear Greece; you might think of Athens & Santorini. Which the common and most known places in Greece (in my opinion). And you'll be surprised that Greece has more to offer than a rugged landscape and Greek buildings…
We went here after our wedding during the Autumn season. Not the best time to travel but the trip went well and we managed to see amazing beaches and stunning landscapes. And oh, did I say it's my first time in Greece? 😁😀😁
And of course, I'm so happy that even during this season you can still experience warm weather, sunny day and the most interesting part – less crowded!!!

I am very happy to share my ideas where to go in case you will go for a more adventurous trip like ours 😍👩‍🏫🇬🇷
Alright, won't drag you longer — let's begin…
We arrived there from Borovets, Bulgaria to Ormos Panagias great timing for dinner. And we managed to find a decent restaurant near our accommodation.
Barbouni Seafood – facing the sea, price-wise was okay and the quality of food not that bad at all. So, if you're going to stay near the area – give this restaurant a try and let me know if you have a different opinion, perhaps what dish you can recommend… 😉
First day with a great view and lots of Olive trees around our house…
Adventure begins…!!! 😍😍😍
We decided to do BEACH HOPPING and sightseeing in the first half of the day:
>>> Sithonia<<<
Toroni Beach – great things about this place that not only a large beach but also a few tourists coming here even during summer. So you can enjoy swimming, walking or even just lay down on your beach blanket… The only thing you have to remember to bring your own food and drinks when visiting this place, coz there's no restaurants around the area during this season.
Kavourotripes Beach – also known as Orange Beach, there's no sign on how to get there so make sure to check your map closely when driving and I'm also sure there would some cars driving in or out – so that would probably the place you're looking for. The view and water just amazing, it's still pretty crowded when we reached there but you can imagine how crowded it can be during summer. Apart from swimming, you can also do snorkeling for what we saw people doing there. There's a beach resort nearby, so you can buy some food and drinks when you decided to stay for a while. Or else, always good to bring your own.
View from Cultural Association Sarti "The Afisia" – few meters drive from Kavourotripes Beach. You can even go down to the area so you can roam around and visit the church (I believe it should be Church of the Assumption). Another great view while walking…
Along the Sarti road – watch out for Beehives. You'll see these boxes almost everywhere on the side road. So make sure to pay attention to it and not to miss it. It's very fascinating especially for someone like me who never seen it before – that's right 😉!
More Sightseeing…Literally you can stop every few meters not only to take amazing photos like these but also looking at this wonderful view. You might also bump in with the cyclist 🚴‍♂️🚴‍♀️ (check my video below).
Photos don't do justice to the real beauty of this place 😍. If you would have a longer time to explore, by all means, enjoy every stop.
And for the rest of the day, we decided to explore not only Nikiti Beach but also their Old Town/Village.
Nikiti Beach – recently undergo a huge development where they built boardwalk, bars, restaurants, and even accommodations to attract more tourists. During this season, you won't see many tourists but some of the restaurants and cafes still open so you can still enjoy the view while sipping hot coffee or chocolate and perhaps having some light snacks on the side as well 😍
Nikiti Old Town – If you're driving or visiting Nikiti, it's a must to stop and explore this Old Town. It's been preserved quite well by the efforts of the house owners so you can see old-stoned houses. And even the pavement still looks old. Over here, you can either explore by walk or rent bicycles. In our case, we walked. The beauty of exploring this place during this season, again – less crowd. You can entirely see the charm of each house and imagining yourself living in the past 😃
And that's the end of the adventure for the 1st day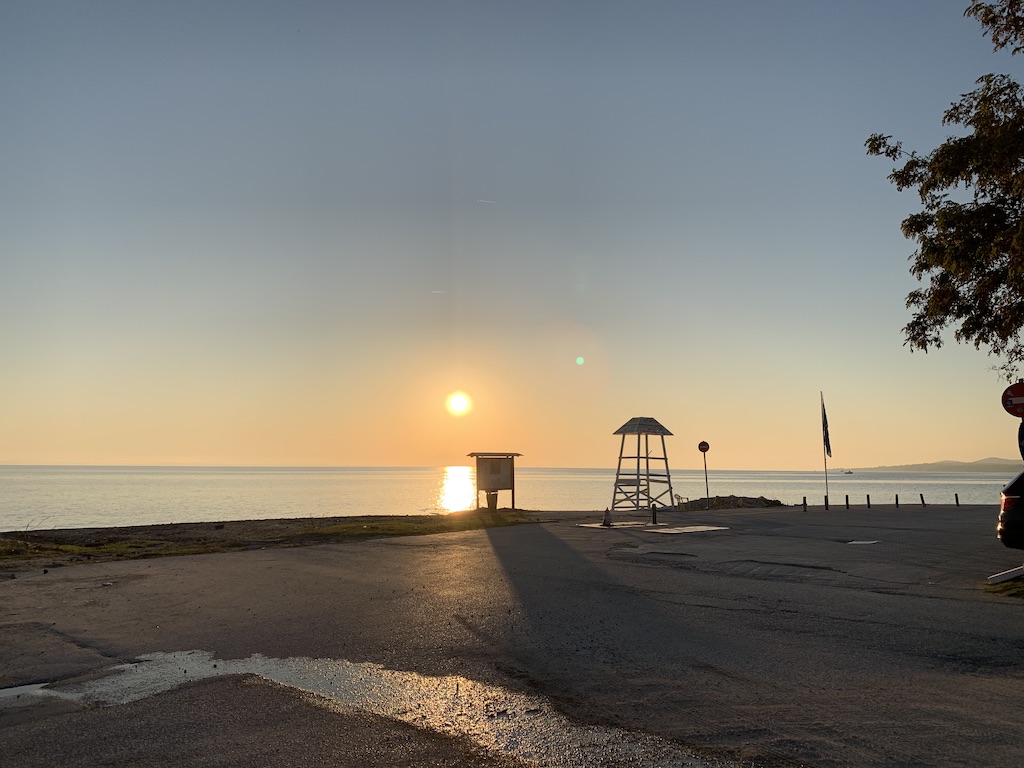 Don't forget to watch my video as well!!! ⬇️⬇️⬇️
On the second day – we decided to explore Thassos and from the place, we're staying – it took us 5hours including the ferry.
Ferry Boat from Keramoti to Limenas (Thassos town) — for our case…
Journey time 35 minutes, departures every half an hour during the summer with Thassos Ferries or ANETH Ferries.
▶️▶️▶️ For Schedules and Prices
NOTE: It's advisable to reach the port in the morning or even say 730am, so you have plenty of time to explore Thassos. Because if you reach half of the day, you won't have much time to have a relaxing walk or sightseeing coz you're rushing and you won't see as much compare to when you started early especially if you're planning to leave the place within the day…(as per our experience)
What to do while on the way to Thassos? Enjoy the view and take more photos 📷😍🎥
Coz we came to Thassos quite late, we can't indulge much exploring the beauty of this place… Just like having amazing race, quick photo/video taking and next stop… 😐
But if you would stay longer in Thassos – I would recommend you to check this out: 15 Best Things to Do in Thassos (Greece). I find this blog post helpful especially if you want to plan it very well and ahead of time…
But luckily we managed to visit and explore 2 of the most popular tourists' attraction in Thassos
Archangel Michael Monastery or Holy Archangels Greek Orthodox Monastery – known as the biggest and popular monastery in Thassos. It is built on the rim of a cliff and because of that, you'll be able to catch a magnificent panoramic view. I believe that they also have a cafe inside and a terrace if you decided to stay longer to relax or simply enjoying the view. (Do check out my video below so you'd see it more)
NOTE: Make sure when you plan to go to this monastery, to wear long pants or a long dress. If not, they will ask you to wear their sarong or loose pants. Sign of respect when visiting, same thing when you visit any temple. But you don't have to pay for it as far as I can remember.
Giola – natural rocky pool and can be found in Astris, south part of Thassos. It's about 9-min drive from the Archangel Michael Monastery. During summer I can imagine how crowded and noisy this place can be. I think really the best time to visit this place either early summer or same time as our's October, where you can see almost no one and you can still enjoy the same sunny and slightly windy weather and swim in this rocky pool and to experience exactly as how you wanted it to be…less crowded and less noise 😉

Have to be careful when you swim, coz there are no steps and it can be difficult to get off from the rocky pool.

It is definitely a great spot for sunrise and sunset!😍 Make sure you have enough battery for your phone or camera when visiting this place. One photo or video wouldn't be enough – trust me 😉
And that's the end of our short trip to Sithonia and Thassos! Hope you find it valuable in case you're planning to visit Sithonia and Thassos soon 😁
Have more ideas to share? Feel free to drop a comment below, I want to know 😘
Here's the video part 2 – Thassos ⬇️⬇️⬇️
Make sure to follow my social media accounts as well where I post my favorite traveling experiences 📷, my new music covers, and of course my cooking clips 🎙️
– Instagram, Pinterest, Facebook, Youtube, and Twitter
Photographs
All photos and videos taken by me and only using my iPhone. No filter, only some I used portrait mode – to enhance the quality of the subject.