Read Time:
3
minutes
With the pandemic we're facing, have you ever felt your priorities have changed. Slowly, you felt like how you could make your life more meaningful and impact your community. Do I get a double nod, yes?
Well, you're not alone – I think most of us now have this thorough thinking where we want to do something helpful or be somewhere meaningful to us, something we value, something that speaks to our heart.
Follow Your Heart; It Knows The Way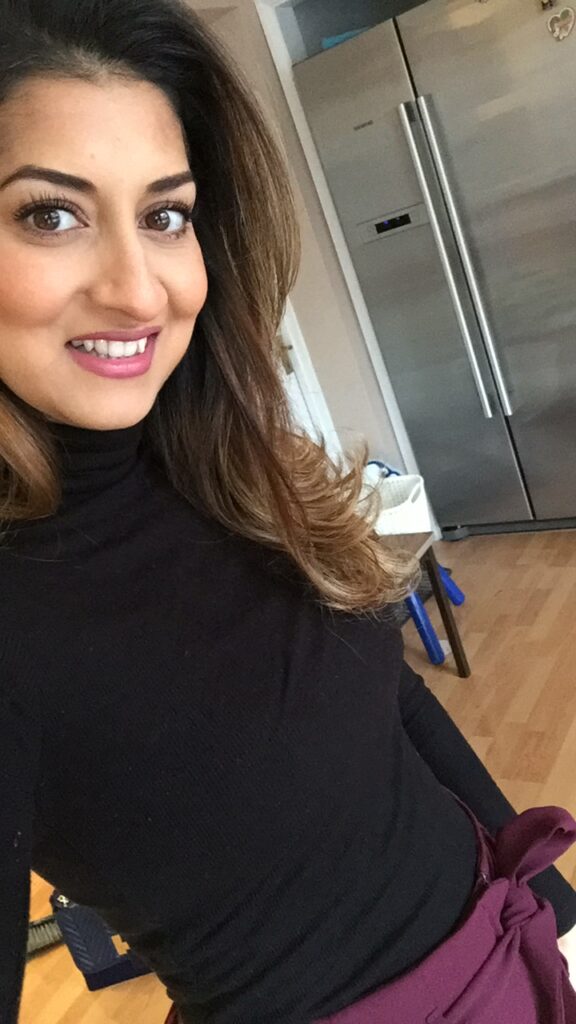 In today's episode of Empower Your Life, Rupal Panchal will share how being true to yourself can help you discover your passion and live a life with a bigger purpose.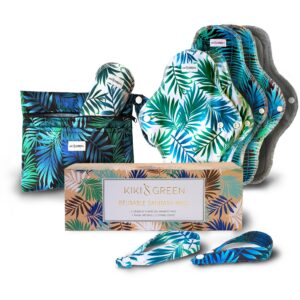 Rupal; is a qualified optometrist that so passionate about how to contribute to helping protect our planet. She also advocates empowering women not to forget to think about the future generation too. There's always this idea for her to build a business, then Kiki & Green were born. And also, she's supporting a healthier lifestyle, as I do 🙃. There are so many great things about her; I'm sure you'd love her more when you watch this episode entirely.
As I continue bringing these incredible people with their inspiring stories, my aim is always to motivate you to slowly act on something that's been a calling to you, yet you don't know how to. I'm hopeful that every guest I interview, somehow one of these people will closely relate to you and help push you to start acting on something you have wanted to do for a long time.
"Everyone Is a Genius"
…" But if you judge a fish on its ability to climb a tree, it will live its whole life believing it is stupid." – Albert Einstein

---
Watch this episode, and you'll learn:
Why Understanding your BIG WHY can help you start the career you want or the business you want to build
Having a BIG PURPOSE with something you like to create or make is more important than just thinking about money.
For women out there, why it's good to understand and perhaps start using reusable pads.
Practicing a Healthier Lifestyle is part of keeping you on track to build your business or career
Why staying true to yourself is crucial when making a huge decision in life
Meditate, and Journaling set your mood and the right mindset
Plan, Plan, Plan
Why It Is Important to Make Time For Yourself
If you've been thinking about making a career change or building a business and don't know how to begin, make sure to watch this episode.
Empower Your Life with Cindy Marie
Empower Your Life Show's goal is to help you move forward consistently to shine your full potential. In this show, Cindy Marie and guests share their unique stories about how everything started & share actionable tools & methods to bring out the greatness within you – with lots of fun & realness, from social businesses & career transitions to addressing failure and fear. To philanthropy and doing our part to make the world better than we found, here to inspire makes you stronger, more confident, resilient, optimistic & authentic while creating or growing your business and the life you deserve. Support this podcast: https://podcasters.spotify.com/pod/show/empoweryourlifecindymarie/support
Channeling Passions into a Business with a Purpose with Rupal Panchal
TIMESTAMPS

02:23 – 14:21>>> Story Behind the Kiki & Green
14:21 – 19:06 >>> Practicing a Healthier Lifestyle
19:06 – 23:48>>> Tips or Advice to Share for the Things to Consider First Before Starting a Business
23:48 – 29:38>>> Tips to Discover or Find Career Passion
29:38 – 35:39>>> How Do You Keep Yourself OPTIMISTIC?
35:39 – 38:59>>> Where to Find Kiki & Green?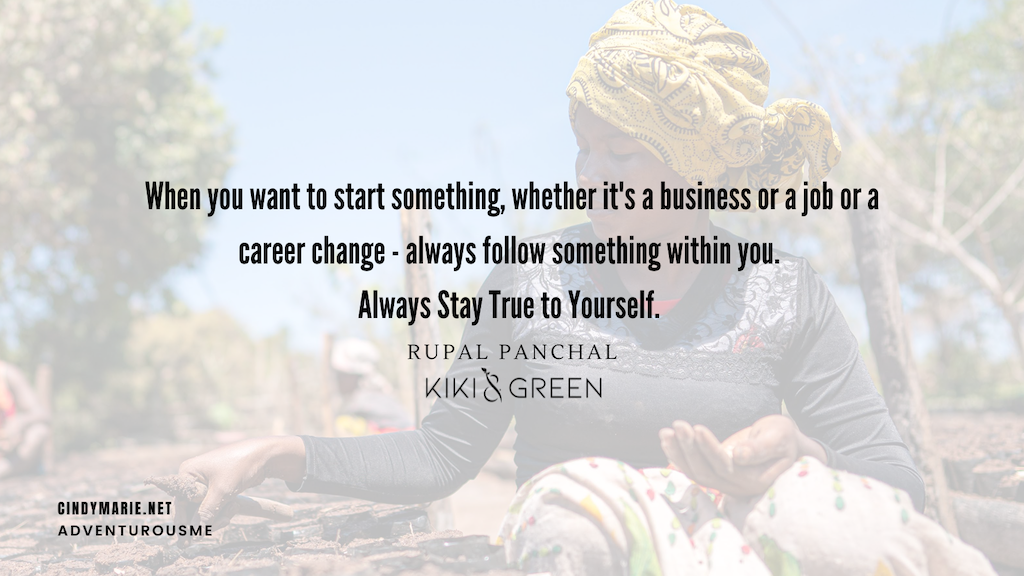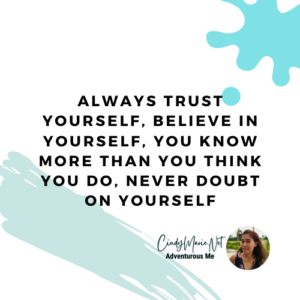 DEEP THINKING: Spend some time alone, sit down and tune into yourself, and ask yourself these: what is it, something that my heart and my gut always telling me to start doing? And what is it that stops me from starting acting on it? Make sure to have your pen and paper with you, and write down all the answers that come out. Hopefully, from there, you'll have a clearer vision to follow your passions or discover your passions and start doing it. Remember, small steps each day count, stay consistent, embrace the process, and enjoy the journey.
What's your biggest key takeaway from this episode?
I would love to hear from you; leave a comment below.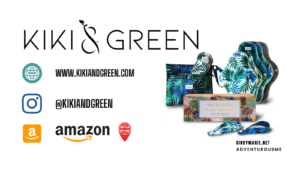 ---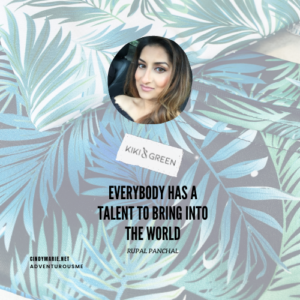 Would you want to know more about Kiki and Green? Please check their website and also follow their Instagram. If you're in the UK and want to try their amazing products, head over to Amazon UK to choose your reusable pads, and don't forget to share your reviews once you have them 💞.
Let's support small business companies that promote a healthier lifestyle and help our planet to become better than we found—every small act matters.
Recent Event Green Live 15 – 17 October 2021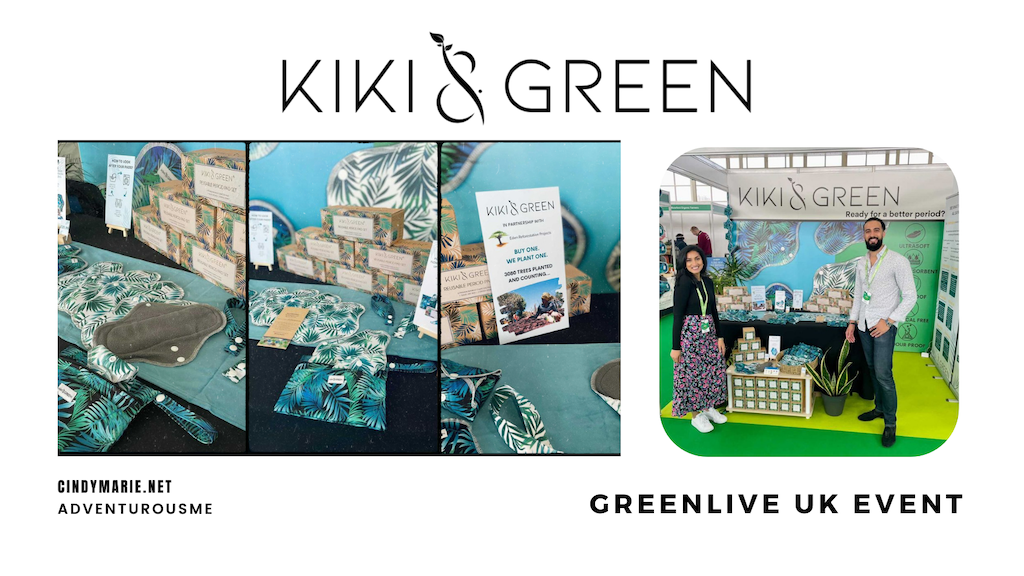 Recent Event Green Live 15 – 17 October 2021
Want to learn more about why it's good to start using Reusable Pads? Check this out > How To Have A Sustainable Period Using Reusable Pads
---
Until next time.
No matter how big or small your dream is, take action now, use everything you learned from this interview, and keep going for your goals. Take small steps every day.
With so much love,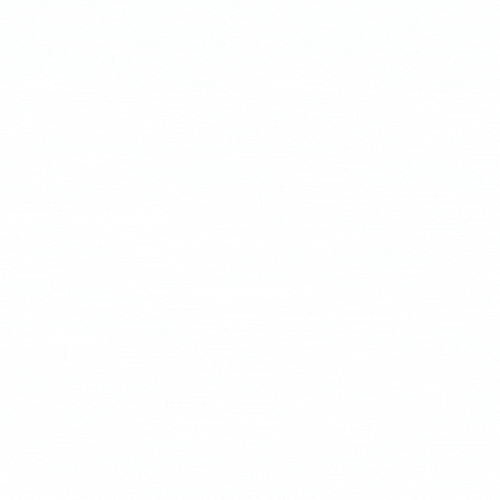 ---
Know someone who is a solopreneur/entrepreneur who newly started their business or anyone you think with a great story behind the new journey they're taking; they share the same values as we do and will be a great addition to this segment. Let's connect. 😀
Photographs
Cindy Marie and Kiki and Green own the majority of the photos.
DISCLAIMER: All rights reserved to the owner of other photos—no copyright infringement intended in this article.