Read Time:
11
minutes
This is the continuation of our story after being stuck in Boracay for more than a week to our original date to get back to Singapore. If you haven't read my previous post, click here so you'd have a little bit of a back-story 😉. And due to stricter measures in Singapore, we can't directly fly back without government approvals. So, we ended up stuck in Manila for 2 months. And almost 3 months in the Philippines (Boracay + Manila) before we finally got our approvals.

In this post, I will share with you how we cope living in Manila on a daily basis and at the same time how we as a couple practice our patience, mindset to stay positive, and of course, keeping ourselves healthy and safe. And lastly, how is our experience with the Stay-Home-Notice (SHN) in an assigned hotel by the local government when we finally got our approvals and arrived in Singapore.
P.S. It's a very long story 😄💞😄
And the story goes like this…
We reached Manila back on 26th March (Thursday) and before that, my husband and I knew that we won't be able to get back to Singapore anytime soon because we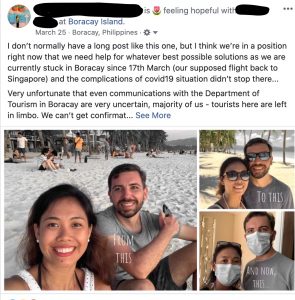 received our first application being rejected – that's very devastating and frustrating by the way, after what we've gone through. So what I did since we can't travel to my hometown and this is due to the lockdown in the Philippines, I posted our situation on Facebook and asking for help if anyone would know a place near the airport if possible, great wi-fi connection, and the more reasonable rental fee would be ideal.
Luckily, I got my ex-colleague who's willing to help us to find a place during the lockdown and there were others as well who contacted me for some help however, we're unable to get the place sorted. My ex-colleague and her husband even pick us up from the airport and drove us all the way to the place where we're going to stay. We are so grateful that we have these kind-hearted people that are willing to help even at an inconvenient time. Oh I forgot to mention, she's pregnant back then and you can imagine how much tougher for her to move around. And somewhere in April, they welcomed their first baby – a beautiful baby girl.💖💖💖
Here we are in the new accommodation, a new place, and a new journey. Thinking what else we are going to experience, what else to work on, and what else to learn with this uncertainty…
At the beginning of our stay, we never thought that we're going to be there for more than a month because we thought that it won't be that difficult to get the approval knowing how efficient Singapore is, but we guess this time around is totally different.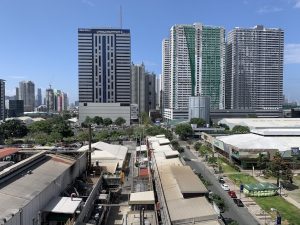 The first thing that we realized would be – we are no longer on an island where it's quieter, less polluted, and fewer people. Here, we're back in the city noise and a more crowded place. Can't deny, our relationship really being tested every day given that we're both not in our comfort place. But as my usual character, I always try to find positivity in every situation and that really helps us both to keep moving…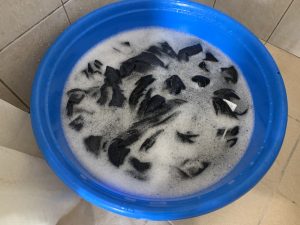 Every day, we have some sort of challenge that we have to find a better solution. For example, the laundry shops near our area majority, not operating – we know that it's coz of COVID19. I didn't have any proper clothes to wear mostly beachwear. So, I ended up wearing my husband's shirts. Anyway, I decided to go back to the old way – hand-wash clothes, because why not?!? And that sort out one of many challenges 😄.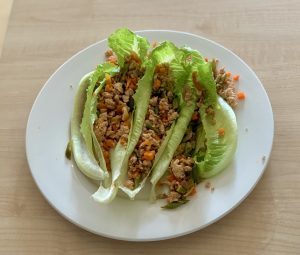 The other good example was, to utilize whatever we have in the kitchen. I love to cook and prepare a healthier version of meals. I don't have enough tools or appliances in the current place and I don't want us to spend more to buy things on top of what we already spending.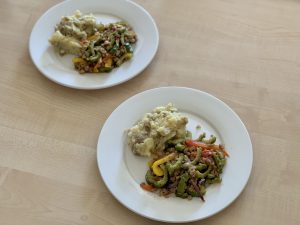 Need to be practical and wise. I am very happy that I still managed to prepare and have decent healthier meals, some Filipino dishes, but we also indulge whenever we feel like.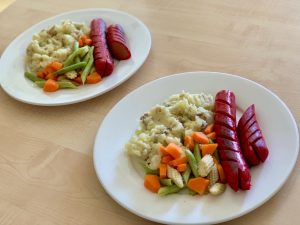 We had the most times of having Ube Ice cream (Purple Yam) or say Ice cream and Turon (Banana Lumpia) in our entire lives. We just both love it 😍😍😍. Didn't I say we indulge right? 😉.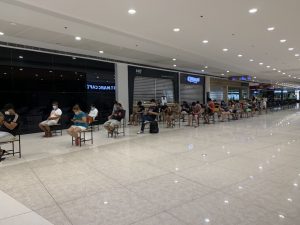 Another example that I think everyone can relate especially if you're living in the Philippines; queueing to enter the grocery store. Yes, I have the quarantine pass to make sure that we can buy things outside or even just simply by going outside in case of some officers will check on us.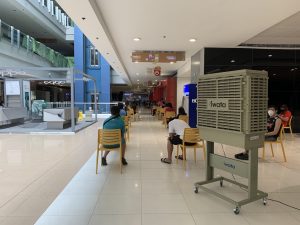 Luckily, living in the main city somehow less restriction in terms of going to grocery stores. We are able to walk together and buy things together at the same time, what I know in most provinces – this is not even allowed. We're pretty relieved about that. And oh, the queue; it's unbelievably long and I think the longest time we have queued was about 1 1/2 hours.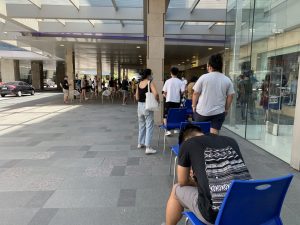 Which for buying the items we need, usually will only take us about a maximum of 30 minutes time. There were other times as well that even for the payment, it will take longer waiting time.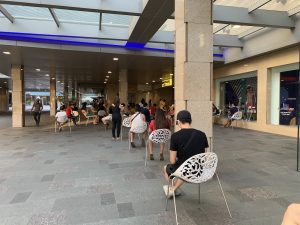 But few times going to the grocery stores, we figured out which day and time the best for us to go to the grocery store so we won't have to spend more time just for queueing 👍👍👍.
We also managed to find a way how to stay active in spite of the situation. We normally will go out and have a walk at around 6ish in the evening within our area for about 3-4 rounds before the curfew starts. Yeap, back then there's a curfew from 8pm – 5am ; you're not supposed to be outside. Everyone should be inside the house except of course if you're frontliners or working in an essential service. So we made sure that at 6ish in the evening, we will be out for a long walk.
And the last one, wi-fi connection – it was a challenge especially for my husband because he does require great speed and/or connection for work. To a point that I have to give-up connecting to the wi-fi so then, my husband's work won't be disrupted. It wasn't great in the beginning coz we're so used to what we have in Singapore internet speed. I didn't feel good to reach out to our landlord about it coz I know how bad or poor it is in the Philippines; the internet, but I have to try and seek help. She tried to contact the provider, I guess it's everyone's issue and there was a lot of feedback coming from other customers as well. In the end, the landlord gave us a local sim card to use as an alternative to connect to the internet. In the end, the wifi somehow works fine with still on/off connectivity here and there. And I decided to minimize using the internet just so it will work for both us especially for my husband.
Those are just some of the many challenges we faced while being stuck in Manila. As for our entry of approvals — We got our approvals on our second application, my husband's company managed to get in touch with a government agency to expedite or appeal for our applications. It took us 1 month to finally get the approvals with the help of the same agency. The HR submitted the third application as a formality and to ensure that we're legally able to fly back to Singapore, we waited first for the official email. We finally received the official approvals on the 23rd of May and we're only allowed to travel between 24th and 26th of May. Of course, we booked on the 26th of May as we have some logistics to settle in the place where we stay and to make sure that we have everything else sorted especially our transportation to the airport, so the 26th of May is just nice timing.
You pretty much can imagine how stressful it was and frustrating to get this sorted while the rest of the Singapore community not really aware that there are thousands of people stuck outside the country coz of entry of approvals; since there's no such news published about other legal residents of Singapore (S Pass, D Pass, and E Pass – types of passes) being stuck outside, they will usually only mention about opening their borders for business, PRs and Long Term Visit Pass who still stuck outside Singapore, but nothing about us – only these past few days, they started to use the "long term pass" holders updates that supposedly meant for people like us stuck outside Singapore. Many of us even in the worse situation – being separated from their husband or even kids for a long time. This one of the things that caused us disappointments of being legal residents in Singapore yet not being prioritized to be back home (in my personal opinion). We felt that we're very lucky that we managed to get the earliest date to come back to Singapore before Phase 1 of the post circuit breaker started (2nd June).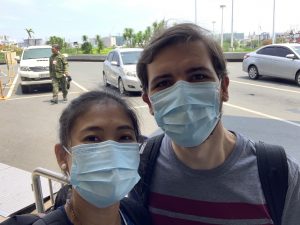 Finally arrived at Ninoy Aquino International Airport (NAIA) and checking in was pretty smooth. We took Singapore Airlines as they have the most commercial flights available.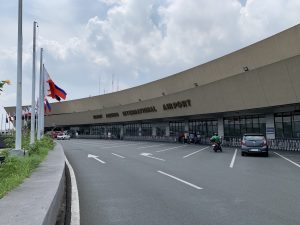 While waiting for the arriving passengers, we're just discussing how COVID19 changes everything…in good and bad. Looking at the airport how empty it was, definitely bad for the airline industry and also for the tourism industry. There were only 3 of us who'll be flying back to Singapore on that schedule while there were about 250 passengers who came back from Singapore to the Philippines. It seems that SQ flight attendants quite surprised to welcome us, as they're seem not expecting EP/DP holders to be flying back Singapore that soon, the other passenger was Singapore citizen. We had a smooth flight going back to Singapore anyway ☺️.
We had a great nap on the flight, there's no meal provided due to COVID19 but we're given a bag each full of snacks and bottles of water. Ready now to enter Singapore Immigration. It's not a surprise that the airport really looked empty, only those employees were there when we arrived. Walked towards the Immigration, Ministry of Manpower (MOM) staff waiting for us to verify our particulars and our documents. It took us probably not more than 10mins before we manage to go to the baggage reclaim area.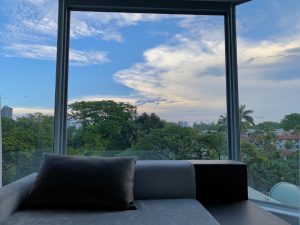 From there on, we were escorted by one uncle to bring us to the assigned hotel where we're going to serve our Stay-Home-Notice (SHN) for 14 days. And we're assigned in the Shangri-La Grange Road area. It was a pretty smooth journey as well. Staff from the hotel were there ready to assist us. Back to providing our documents and particulars just like how you do check-in in the hotel. They even had this form to indicate for food preference; I must admit, I'm impressed 😍.
With our 14-day Stay-Home-Notice (SHN), it wasn't that easy for both of us especially given that we have very limited space especially for my husband who requires a quiet place for work, which means I can't do within the same area. I decided to do my stuff in the toilet room and close the door, like singing or when I'm on call or prefer to watch a tv show/movie without using earphones. Not only that, obviously we can't go out – we're required to be in the room for the entire 14 days. Everything will be served or provided on the table outside our room and they will just ring the bell when it's ready to be collected.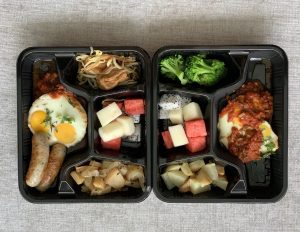 We received 3 meals a day, a very good variety of food and really good quality 👍. On top of that, it usually comes with bread, chips, instant noodle cup, soft drinks, pack milk, pack juice, biscuits, fruits, and chocolate bar depending on which meal. It's scheduled from 730am for the breakfast, 12ish pm for lunch, and around 6ish pm for dinner. On the first day, we're pretty okay with the portion of the served meal. But then, we realized that it's becoming too much coz we don't move much and therefore the food that we had earlier won't digest that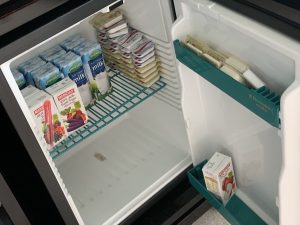 quickly unlike when you have a more spacious room and you can go outside. So then, we requested the hotel staff to lessen the portion of our meals which they're pretty okay with it 😀. That didn't stop there, we asked multiple requests from opting out noodle cup, soft drinks, and the last one to change our dinner meal to mixed fruits instead. Just because it's free we will eat everything or worse keep it. We'd rather have just enough to what we can eat or consume.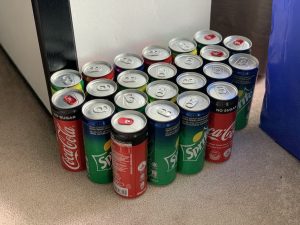 But in the end, we still have quite a number of pack juice, pack fruits, and soft drinks left that we decided to bring home instead coz they will dispose it anyway, so might as well keep it and consume it when back home.
Linens and towels also scheduled when they're going to deliver new ones and when they will collect the used ones. We have to change the linen by ourselves in this case.
Staying in the hotel for 14 days – left us watching TV more than we've ever done in our lives. In our free time back to normal days, we prefer to go outside and spend time with nature. And usually, just watch a movie over the cinema or via Netflix/AppleTV Plus content.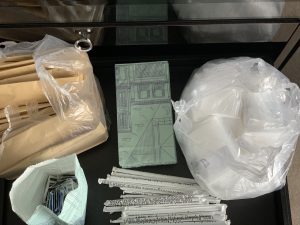 One thing that we personally didn't like on our 14 days SHN; too many plastics – each meal per person packed with 1 plastic and you can imagine in a day, we will get 6 plastics. On the first day, I didn't think of keeping it but then the next day I realized that it's not good for the environment or nature. So we started keeping the plastics and extra cutleries even the small paper bag for the fruits and snacks. I know you would say that I like to keep trash stuff, but those can be recycled, reused, and will reduce waste, most importantly protect our environment. A small act can make a difference and this is what I always believe in even during this pandemic – have to stay cautious to protect our nature/environment.
Of course, the most important activity that we have to abide while serving our 14-day Stay-Home-Notice (SHN) would be taking note of our temperature 3 times a day. There's an app called HOMER that MOM advised you to download per person and to follow scheduled timings to submit our individual temperature along with a photo to take every day. We also required to write down our temperature in the Temperature Tracking Sheet provided by the hotel. And not only that, every day at around 2pm – the hotel staff will call us to get our temperature, also to check our condition. Lastly, we get a call from MOM randomly to ensure that we're in the hotel, submitting our temperatures, and also to check if we're safe and healthy.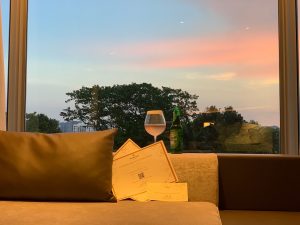 One day before check-out time, we were given certificates for completing our 14-day stay in the hotel with a gift voucher. We didn't expect that but, pretty amazed we got something as a remembrance that will always remind us what we've been through all these months 🤗. We also got instructions on what to do next upon checking out e.g. what time we should be out, etc. We decided to order a glass of wine and beer just to celebrate our last night, also to celebrate being safe, we're both healthy, and the next day, finally, we'll be home 😍.
The next day, we started our day early to do the packing and making sure that we have everything we need to pack and carry back home. The checking out was pretty smooth, settled the bill for our drinks, and had a short chit chat with the hotel staff how COVID19 affecting the business so much. There were about less than 10 people working for what we saw and just sad that this might be still be looking like this for the coming months… Finally, we got our grab car and reached back to our home sweet home 🏠…
Overall, the experience we had – we took it in a positive way even though as I've said earlier our relationship really being tested, I can say that we're now stronger, we know now how to communicate better, and most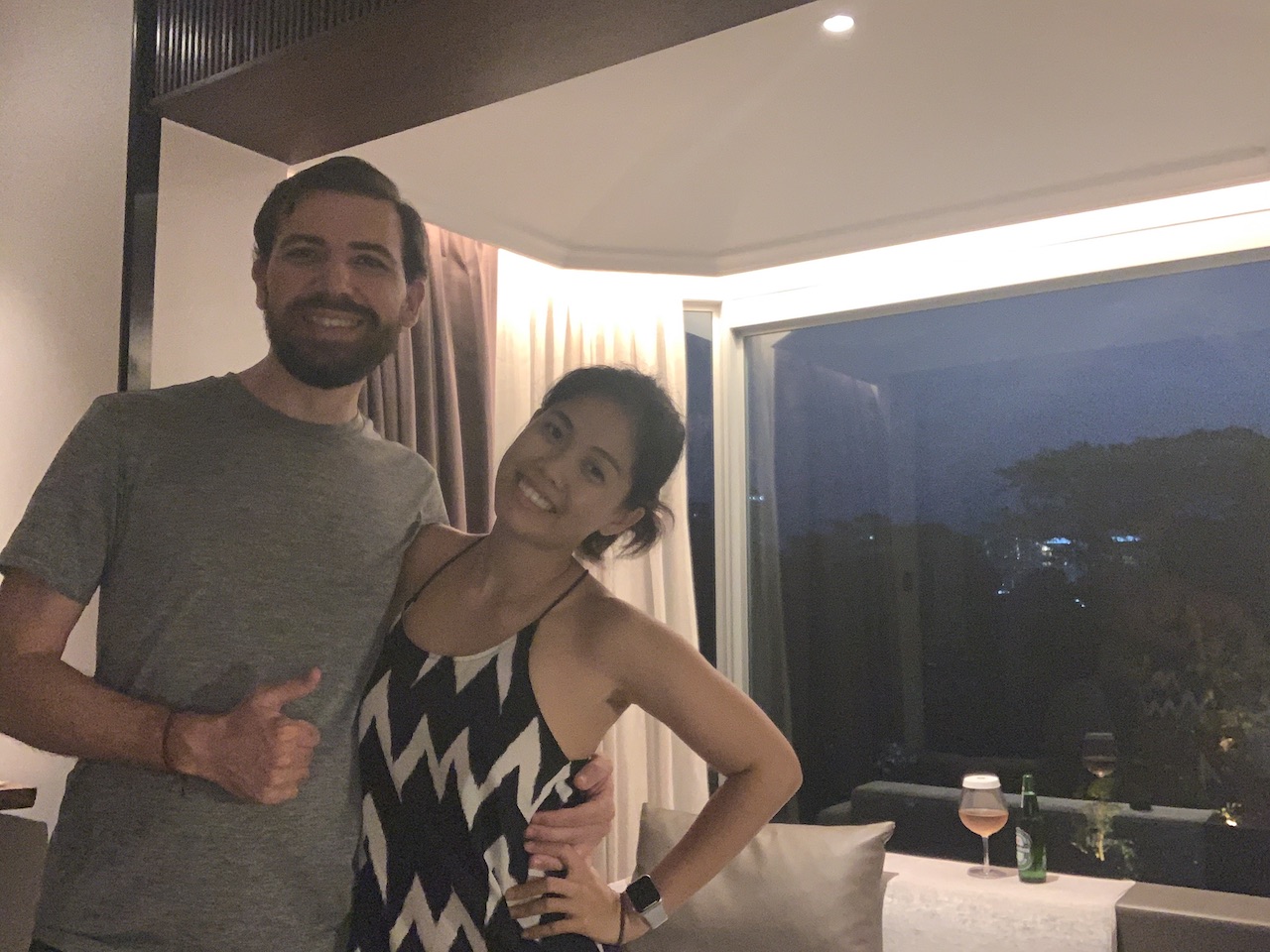 importantly, in a clearer light; we both know now what we really value in life. We realized so many things that we should be focusing on from now onwards. We're very grateful that we have each other while being stuck outside Singapore, it could've been a different story if we got separated or one of us fall sick. I can't tell what our life would be, just feel thankful that now we're back home safe and healthy. The other big lesson we had, anyone can be there for you when the sun is shining. In the storms, is where you learn who truly cares for you. And these are the people that you want to treasure and spend more time with.
I hope this long story of ours inspired you, give you a light in the dark, and open your mind and eyes to see and think. Not all the time we will be living in a happy and comfortable life – we will be hit with something that will test our patience, our beliefs, our relationship, and more. As they say, 'life is like a rollercoaster; it has ups and downs, but we always have the choice to make, and that is to stay positive and seek strength so that you will be able to overcome the situation.'
Thank you for reading my story, I hope you find this post valuable. Give this post a like 👍 and comment if you have something similar experience to share. I would love to hear ❤️
You can follow my social media accounts as well where I post my favorite traveling experiences 📷, my new music covers, my dance moves, and of course my cooking clips 🎙️
– Instagram, Pinterest, Facebook, Youtube, and Twitter
Photographs
All photos taken by me and only using my iPhone. Basic filter used and portrait mode – to enhance the quality of the subject.