Read Time:
2
minutes
Have you wondered why you have this typical pattern of waking up at 3am? Or feeling so sensitive to something or exhausted out of nowhere that drains your energy suddenly?
Today, I'm speaking with Charmaine Diallo – Energy Healing Guide; to understand why some of us experience sudden emotional discomfort, waking up at 3am. And how Energy Healing can help you to release that negative energy and have peace, joy, and a fulfilling life.
Be Open and Surrender for what is Possible for Your Well-Being
Watch/Listen NOW to Learn:
Why Waking Up at 3 am, and what is the meaning?
Understanding 2 Kinds of Energy
Understanding EMOTIONS
Signs that You might be an EMPATH
Hot N Cold Shower Technique to Improve Energy
Creating Boundaries and Releasing Limiting Beliefs
Be More Intentional to Have More Positive Energy
It Takes Your Readiness to Remove Easily Your Limiting Beliefs
Be Curious, Be Open, Explore, and Experiment, Allowing to Feel Fulfilled and Joyful
If you've been suffering from waking up at 3am or absorbing negative energy quickly, among other negative energy, then this episode is what YOU might want to hear and listen to:
Empower Your Life with Cindy Marie
Empower Your Life Show's goal is to help you move forward consistently to shine your full potential. In this show, Cindy Marie and guests share their unique stories about how everything started & share actionable tools & methods to bring out the greatness within you – with lots of fun & realness, from social businesses & career transitions to addressing failure and fear. To philanthropy and doing our part to make the world better than we found, here to inspire makes you stronger, more confident, resilient, optimistic & authentic while creating or growing your business and the life you deserve. Support this podcast: https://podcasters.spotify.com/pod/show/empoweryourlifecindymarie/support
Energy Healing for Well-Being with Charmaine Diallo
Time Stamps:
01:29 – 07:58 – The Story of Charmaine Diallo Tapping into Energy Healing
07:58 – 11:58 – What is Energy Healing? Common Misconceptions about Energy Healing and its Benefits
11:58 – 18:55 – What is Empath? Signs and Traits of Being an Empath and Your Guidance
18:55 – 33:22 – Quick Tip For People Who Feel They're Empath
33:55 – 37:48 – How Do You Keep Yourself Optimistic?
37:48 – 41:17 – Where to Connect with Charmaine Diallo?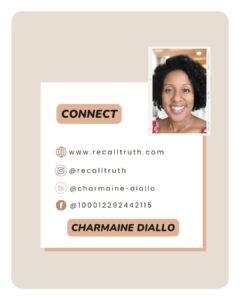 DEEP THINKING:
Do you feel that what Charmaine discussed resonates with you, and yet, you don't know how or where to have that safe space?
Get your FREE Energy Protection Guide here to start having that strong and healthy boundaries with your abilities.

Remember, you're not alone on this – so many people are just experiencing precisely what you feel and feeling like there is no place to open up and dive into it further. Charmaine is here to support you…

And when you're ready to dive into accessing your full potential, slowly but surely — I'm here to support you.
– Be Unstoppable –

Have more questions or queries? Let's Connect

Interested in Exploring and Experiencing Coaching?
I've got you covered 45mins on ME – Let's Chat