Read Time:
21
minutes
What usually comes across your mind when someone asked you what UK famous for? Brexit? London? David Beckham? Greatest Pop Stars e.g. Beatles, Spice Girls, Adele and Ed Sheeran? Red Buses? I'm sure there are so much more out there that you can think of 😉
So before I jump in and share with you our 2-week itinerary in a slow and relaxed way – I want to highlight with you that when you're planning to visit UK, make sure that you have a 3-month window to apply for your visa before your trip, to avoid any trouble or hassle. Check out my STEP-BY-STEP Guide on Applying for UK Standard Visitor Visa to get more detailed information 😇
So, we went there during winter time, now you might think that it's awesome coz it's going to be good weather to explore. Yeah sure, but that's also going to affect not only the length of daytime but also how early we need to wake up. Anyway, I will tackle that later and you get to know more info, FYI – this is a long post to read 😉.

And the idea of this long blog, is to give you more info about the places you might think to explore when you're planning to visit UK. Best time to visit or things to avoid, and many more. Also, to give you tips on where to go for some snacks, lunch and/or dinner that's not so heavy on your pocket 😉.
P.S. For videos that you'll be watching; Video Part 1 (Day 1 – Day 5)
Video Part 2 (Day 6 – Day 12) and last video Part 3 (Day 13 – Day 14)
Part 2 Video – There's some mistake with the numbering 😂 (11th Day should be 10th day, and so the rest already messed as well) Apologies 😂✌️
DAY 1
We've reached our hotel at around 10am and the usual check-in time would be 3pm. That only means leaving our stuff at their lobby and so we can start exploring…Lucky us, our location is within some great tourist spots and just for hours, we will see a lot and since we love walking, we don't mind at all just to walk and explore 🚶‍♀️🚶‍♂️.
▪️ St. Katharine's Dock – Central London's only marina and surrounded by a variety of restaurants, eateries, coffee shops, and famous Dickens Inn.

▪️ Tower of London – official majesty's Royal Palace and Fortress of the Tower of London. To visit the tower, you have to pay between £13 to £27 (Child – Adult) Click here for more info: Tower of London

▪️ Tower Bridge – one of London's famous bridges and one of many must-see attractions in London. If you want to explore more, price and opening hours info here: Opening hours & admission prices

▪️ Hay's Galleria – located in the south bank of the River Thames and within this area you'll see small shops, restaurants, coffee shops and you'll also see "The Navigators", a 60-foot sculpture by artist David Kemp. We had lunch in this area, it was an a-okay place. There's this small Bagel shop near the Navigators that you can try, a great variety of bagels and toppings 😋
These attractions are within the area, so a leisure walk just perfect. The weather gets colder as it's getting darker and the day is shorter. We need to plan our adventure better the next day…
---
DAY 2
Now we know that as soon as it reaches from 345pm to 4pm – it's almost night time and so, we decided to rise up early and visit another few places this time.
▪️ Trinity Square Gardens – very close to Tower Bridge station and you'll see memorials to the Merchant Seamen who died in both world wars and to those executed on the former Tower Hill scaffold (check it out on my video to view the memorials ) 😉

▪️ St. Paul's Cathedral – a very iconic feature of the London skyline with a rich history, definitely worth the visit. And you'll see this once more in a brighter day in the next day of my adventure 😉

▪️ The Regent's Park – one of Royal Parks of London. Probably around 2-2 1/2 hours for you to fully explore this park. There are plenty of activities you can do during summer but on our visit, we can only pretty much walk and have a great view of the park. We also had a coffee break in "Boathouse Cafe", pretty decent cafe not much variety of choices but definitely a great place to have a break with a great view. Loved the muffins especially the chocolate flavor 😍

▪️ Madame Tussauds – wax museum in London where you can see plenty of famous, historical and celebrity figures which some I don't find it very close to the actual looks 🤔. But definitely fun to visit. If you're a fan of this place, make sure to plan it, as it can be very crowded.
---
😋 🍽️ FOOD ALERT! MUST VISIT AND TRY: CONNUBIO DA FABIO
◼️ We went here for dinner to celebrate post bday of my sister-in-law along with her family. Though the service can be a bit slow, the quality of the food and menu is very impressive. There some dishes come with a wine recommendation from the menu which I thought it's very helpful especially when you just don't have an idea what to drink with the dish you've ordered. Or else, you can ask their staff to assist with other drinks options. FYI, price is above the average and the location is not in the central area 😉
---
DAY 3
On this day, we decided to explore the neighborhood and famous Shopping streets 😉. And yes, we started early as well – wonder what time? We started around 9am.
▪️ Aldgate Square – newly transformed square. And considered as one of the largest public spaces in the City of London. It offers public events, we just passed by this area when we're looking where to have breakfast. Thought must be a tourist spot as well 😉.

▪️ The Garden at 120 – we just passed by this area because of its fascinating art ceiling. Another newly opened tourist spot and the largest rooftop's public place. Very sad that we've missed exploring this area. Definitely a must-visit place when you're in London.

▪️ Leadenhall Market – covered market with a wide range of goods on sale. There are also restaurants and pubs, a great place to go after work for most people that working nearby.
◼️ So for the next places, we took underground/tube – for more information so you won't get lost – check it out here…Transport for London
◼️ And don't be overwhelmed by how many places we visited, these places are very close to each other that you won't feel you've walked or explored that much since you're preoccupied with many things to see 😉
---
▪️ Liberty London – high-end department store in Great Marlborough Street. We were curious to see what's inside since from the outside it looks very nice. But we didn't shop in case you might wonder, they're selling pretty expensive stuff 😅

▪️ Oxford Street – known as Europe's busiest shopping street. You can shop 'till you drop as what they say 😅. Apart from shops, its light decorations also a great attraction for tourists especially at night – it's beautiful 😍

▪️ Carnaby Street – another unique shopping place in London. Also known for fantastic events and another great thing is that it's within Regent street 😉. And what I love about this place when we're there, they had this 'One Ocean, One Planet' theme where basically they used recycled, repurposed or reusable materials to decorate the entire place ❤️. I just love this type of project; zero-waste, a great way to protect and restore our Mother Nature.

▪️ Piccadilly Circus – another one of many popular tourist destinations in London. Iconic with its big screens and statue of Eros.

▪️ St. James – a neighborhood of Piccadilly and Green Park. You can find here some of the finest hotels, restaurants, bars, and cafes also considered as one of London's hidden gems.

▪️ St. James's Park – also known as the oldest Royal Park in the city. A great place for walking, running, and picnic. You can witness a lot of squirrels running around and they're quite comfortable with humans around. And there's also a small lake, where you can see swans and pelicans. People are allowed to feed all of these animals in this park. They also have small shops to buy some bread and drinks. And one big cafe "St. James's Cafe" where they offer a variety of food and drinks and a great place to stay warm especially in the winter time. This place also a path towards Buckingham Palace.

▪️ Buckingham Palace – the most iconic Royal building in the United Kingdom. It is the London residence of Her Majesty Queen. During our visit, it was closed. So make sure to plan your visit and check their site.

▪️ National Gallery – the place to see one of the greatest collections of paintings in the world. We didn't go inside not only because there was a long queue but also it's getting dark and we don't want to spend most of our time just queueing to get inside. And also, there quite happenings outside – so we decided to explore from the outside 😅. It's always recommended to plan your visit so you don't have to queue that long especially during the weekends.

▪️ Trafalgar Square – few meters away from the National Gallery. The largest square and considered the heart of London. It's great to take a photo with the National Gallery background or vise versa.

▪️ St. Martin-in-the-Fields – English Anglican church and dedicated to Martin of Tours. It also located few meters away from the National Gallery and Trafalgar Square. We just passed by this church, but definitely plan to visit this place, worth of history.

▪️ Horse Guards Parade – a large place for Royal parades and ceremonies. And because we reached there at night time, unfortunately, we missed the changing shift of the guards.

▪️ The Household Cavalry Museum – situated at Horse Guard, one of London's most historic buildings and headquarters of the household division. It has a rare and unique treasures collection of ceremonial and operational duties of the Household Cavalry Regiments.

▪️ Westminster Abbey – England's very important church, the site of coronation and other important ceremonies. Large and mainly Gothic Abbey church in the city of Westminster. We're unable to go inside as it's already closed but we've witnessed their Field of Remembrance.

▪️ Big Ben – a.k.a. Great Bell or Big Clock Tower. Unfortunately, during our visit, it was closed due to renovation. Expect to be completed in 2021 😐

▪️ Southbank Centre/ Southbank Centre Market – artistic venue of London, within the building you can witness plenty of events. As for the outdoor, many happenings during the weekends with a lot of stalls selling street food, drinks, and even secondhand and antique books 😮. You'll see performers around the street as well. And don't forget their skateboard space to witness the skaters 🛹.
---
---
😋 🍽️ FOOD ALERT! GREAT VALUE or PRACTICAL FOR DINE-IN OR TAKEAWAY: SIMIT SARAYI & PRET A MANGER
◼️ Simit Sarayi – there are 2 outlets within Oxford Street. Variety of pastries, sandwiches, and cakes with drinks to offer as well. Since everything is expensive in UK, this place is not a bad place for you to have a quick lunch or afternoon break when you're roaming around.
◼️ Pret A Manger – there are about 237 outlets in the city. Serving ready-made food like salads, sandwiches, pasta, soups, snacks, and desserts. Along with fresh juices and hot drinks as well. Not something so special that you can imagine, but for us, it's more in a convenient place to eat and go. And to fill your hungry tummy and get going to explore more.
---
DAY 4
On this day, I decided to explore by walk to the 3 same places again since the weather is way better and sunny. I started a bit late though and walked back home at around 4ish coz I'm afraid to get lost 😬. Explored St. Paul's Cathedral, Trafalgar Square, and the National Gallery. And have passed by few great tourist spots as well. And yes, I was exploring by myself…
▪️ The Royal Exchange – a luxury destination for upmarket shops like jewelry, watches, and more. Along with some restaurants and bars as well. More happenings at night than day. And they have amazing lights in the evening especially when they have a sort of event or celebrating like the Christmas holidays.

▪️ The Royal Courts of Justice – also known as Law courts. Beautiful architecture. During that time I wasn't aware that it's open for public and even museum is free to access. So, make sure to visit this place when you're around the area.

▪️ Eleanor Cross Charing Cross – the decorated stone monument built by King Edward I in memory of his wife Eleanor of Castile. You might just pass this monument and miss it without knowing that it has a great story behind it 😉. So check it out closely when you get there…

TIP: Always great to check their site or google maps reviews before you plan to visit just to see what would be the most recommended day(s) to visit these places. Or check the tourist's reviews whether you think it's worth a visit for you or not.
---
😋 🍽️ FOOD ALERT! GREAT VALUE FOR DINE-IN OR TAKEAWAY: EAT
◼️ We're staying within the city of London and you can imagine that not only it's expensive, but most of the small food shops are on the go. I thought that this place is a great value because a) they have space for dine-in if you're not really on a hurry b) they have a variety of food and drinks c) good price. There about 95 outlets in the city, so for sure; you'll see one 😉
---
DAY 5
I planned to explore neighborhood tourist spots by walk…Again, all by myself.
On this day, you'll see more on the museum, contemporary art gallery, cathedral, palace, and more 😎. While it might be a bit overwhelming for you that I explored many places, most of these places are actually along the way. So, it's not really tiring especially during winter time. It's actually kind of good to feel warm and great exercise too 😉. And bottom line, for you to have ideas what are those tourist spots near the area that you might be interested to explore when you get here.
▪️ St Botolph's Aldgate – It's a church of English parish in the city of London. It's a walking distance from our hotel opposite the EAT shop where we usually have breakfast and next to Aldgate Square. It's open from Mondays – Fridays 0900-1500, it's worth a visit to every church/cathedral near you. Not just because of religious purpose, history of the building but also seeing the great architecture in every detail.

▪️ All Hallows by the Tower – oldest church in the city of London. Sometimes known as All Hallows Barking, is an ancient Anglican church on Byward Street in the City of London.

▪️ Tate Modern – International and modern contemporary art gallery. If you're a big fan of contemporary art, this is definitely a must-visit and you can take your time exploring while they're open. Pretty convenient as well, as they have their own cafe and souvenir shop if you want to have a break.

▪️ Shakespeare's Globe – performing arts venue located on the bank of the River Thames in London. From Tate Modern, it's about 5-mins. walk. They're providing Theatre tour, make sure to check their site to plan your visit accordingly.

▪️ Borough Market – it's the same concept as Mercado de La Boqueria ( Barcelona), from local to international food and drinks (e.g. cheese, bread, fresh fruits, vegetables, and more). Unfortunately, when I reached this place I just had my late lunch, so I didn't try any. But looks like you can try their newly cooked paella, fresh oysters or even their freshly baked pastries when you got there. Do take note that the price might be higher compared to cafes nearby.

▪️ King's College London – Guy's Campus – home to the Faculty of Life Sciences & Medicine and the Dental Institute. I happened to bypass this place by accident coz I supposed to visit the Shard. So I stop by and good enough to take some photos. I believe that they're open to visitors. Check their site for more details.

▪️ Winchester Palace – it's 5-mins away from King's College London. It was once the largest and most important buildings in all medieval London. There are only a few walls are all that remains of the palace of the powerful Bishops of Winchester. It's on the pavement on Clink Street. Near the Anchor and Golden Hind(e).

▪️ Golden Hind(e) – is a full replica of the Golden Hind (launched 1577). The first English ship to circumnavigate the globe. To get a full exploration of the ship, the fee starts from £5.

▪️ The Anchor – a pub serving food and drinks for indoor and outdoor seating. With a great riverside view from the outside and usually gets busy at night. If you're looking for a great view, a great location to have dinner or just-drinks. I guess this is one of the places you can visit.

▪️ Southwark Cathedral – there's a mistake from the video (Part 1), it was labeled as Winchester Cathedral (my apologies 😬✌️). It's an Anglican Cathedral on the south bank of the River Thames, it's around 6-mins walk from the Anchor. During my visit, it's on my way heading back to our hotel 😀


---
😋 🍽️ FOOD ALERT! GREAT LOCATION and VALUE for GREEK FOOD: THE REAL GREEK
◼️ They have indoor and outdoor seating. I decided to have my meal indoor and as you can see below photos, the portion's pretty decent. And you can even have it for sharing if you're a light eater. Along with this food, I've ordered white wine. What I love about this place not only the location but also a) service – staff very attentive and friendly b) great flavors for the food c) good price.
---
DAY 6
On this day, I started quite late at about 1pm and I have explored most museums by walking…Managed to see great historical buildings as well that gave me ideas about where to visit the next day 😀
▪️ The Old Operating Theatre Museum & Herb Garett – Entrance fee £6 and it's about 45min – 1hr of exploring from Tower bridge area. It's a museum of surgical history, almost difficult to find if you're not familiar with the location, so make sure to check the building's name closely and your map as well. I would say a very small museum and to reach the attic you'll have to take narrow stairs. Overall, a very interesting museum with plenty of medicines and old versions of surgical instruments that can be a bit scary, I couldn't imagine the old day's life of how painful to go through a surgery 🥶.
NOTE: This museum is actually 3min. walking distance to/from Borough Market.

▪️ London Mithraeum (Bloomberg Space) – also known as the Temple of Mithras. It's about 14min. walk from The Old Operating Theatre. Once you entered for the main program you'll see the full reconstruction of the original temple. For about max. 30mins of exploring.

▪️ Christchurch Greyfriars Church Garden – Also known as Christ Church Newgate Street. This was the burial site of four medieval queens, though it can be a mysterious, and haunting place – today, this garden served as a popular place for everyone to relax or have their quick lunch or break. And it's about 11min. walk from London Mithraeum. I happened to pass by this Church coz of the next museum that I'm about to visit.

▪️ Museum of the Order of St John – I almost missed this place coz of the direction I took. Luckily, the building itself somehow gave me a signal that it's the place…It's one of the great hidden treasures of London and the place to share with you the story of an ancient military order back in the eleventh century.

Walking back to the hotel, I passed by again to the Royal Exchange and Leadenhall Market, this time with a great night view.
😋 🍽️ FOOD ALERT! GREAT VALUE FOR DINE-IN OR TAKEAWAY: PURE
◼️ One of the many things I love about this place would be the service, they have very friendly staff whichever outlet I go to. And my fave; Choc'Avo Mousse, I think I can have that 3-4 cups a day 😋. It's sort of dessert/snack that you can have any time you want, so light and creamy. Good food and drinks and a good price. And we also noticed that in UK, they encouraged more people to bring their own cups. Thus, within that day – we bought ours and start carrying our own cups everywhere we go while exploring…
---
DAY 7
This day, I only went to 1 place; the Museum of London and passed by some tourist spots as well that gave me an idea of where to go the next day…Why only 1 place, you'll get to know below 😉.
▪️ The Museum of London is a must-see when you're in London. Not only to discover the story of the UK's capital from prehistoric time to the present day but also seeing the art galleries. Oh, their fashion style too.

TIP: As you know, the majority of Museums in London are free. We can either donate or buy some souvenirs to show some support ❤️.
Typically 2-4hrs to explore here. But it's always up to you how quick or slow you want to explore 😉.
😋 🍽️ FOOD ALERT! GREAT VALUE FOR DINE-IN OR TAKEAWAY: PETER'S CAFE LONDON
◼️The place can be very crowded especially in the morning or during mealtime, but overall great value for food and drinks. We're actually very surprised with the portion of our breakfast, ended up eating only half and asked for takeaway for the half to eat later. You can ask when you're there, how big the size of the bread or portion, etc. so you won't be ended up shock as well like us 😉

TIP: Most of the cafes, when you bring your own cup – you'll save £0.50 – £1 (e.g. Pure, Eat, Pret a Manger). But not this Peter's Cafe though 😑
---
DAY 8
Hotel check-out day and left our luggage at the hotel lobby. I did one visit on this day before moving to a new place to stay.
▪️ Guildhall Art Gallery – house of paintings, drawings, and sculptures of the city of London. They also hold temporary exhibitions (charges apply) if you wish to view them.
Typically 2hrs to explore here.
---
DAY 9
On this day, we're coming from a bit far away place towards the city and we started late at around 2pm. Also, the day wasn't that nice – pretty much drizzling all day so you can imagine that not only freezing cold it's also gloomy 😑
▪️ The Green Park – another of London's Royal park and also used to be a famous refuge for thieves and bandits in prehistoric times. It's right next to Buckingham Palace and considered the smallest Royal's park.

▪️ Bomber Command Memorial – commemorating the crews of Bomber Command in WW2.

The next landmarks below are within 1 area heading to Hyde Park that must-see.

▪️ New Zealand War Memorial London – when you're heading to Hyde Park, you'll pass by this memorial. This is the memorial to the dead war of New Zealand during WW1 and WW2.

▪️ Machine Gun Corps Memorial – a.k.a. The Boy David. A memorial to the dead of the Machine Gun Corps in the First World War in London.

▪️ Equestrian statue of the Duke of Wellington, Hyde Park Corner – The monument of Arthur Wellesley, 1st Duke of Wellington. Located within the Wellington Arch site.

▪️ Australian War Memorial London – commemorates the service of Australian men and women who served in WW1 and WW2.

▪️ Royal Artillery Memorial – a big stone monument dedicated to the WW1 casualties of the Royal Regiment of Artillery.

▪️ Wellington Arch – also known as Constitution Arch or Green Park Arch. Another famous landmark to see heading to Hyde Park. It was originally built as an entrance to Buckingham Palace. Now, it's located in a center of small almost look like triangular park along with New Zealand War Memorial, Australian War Memorial, Equestrian Statue Of The Duke Of Wellington, Machine Gun Corps Memorial, and Royal Artillery Memorial.

See the below map for the exact location of these famous landmarks/statues.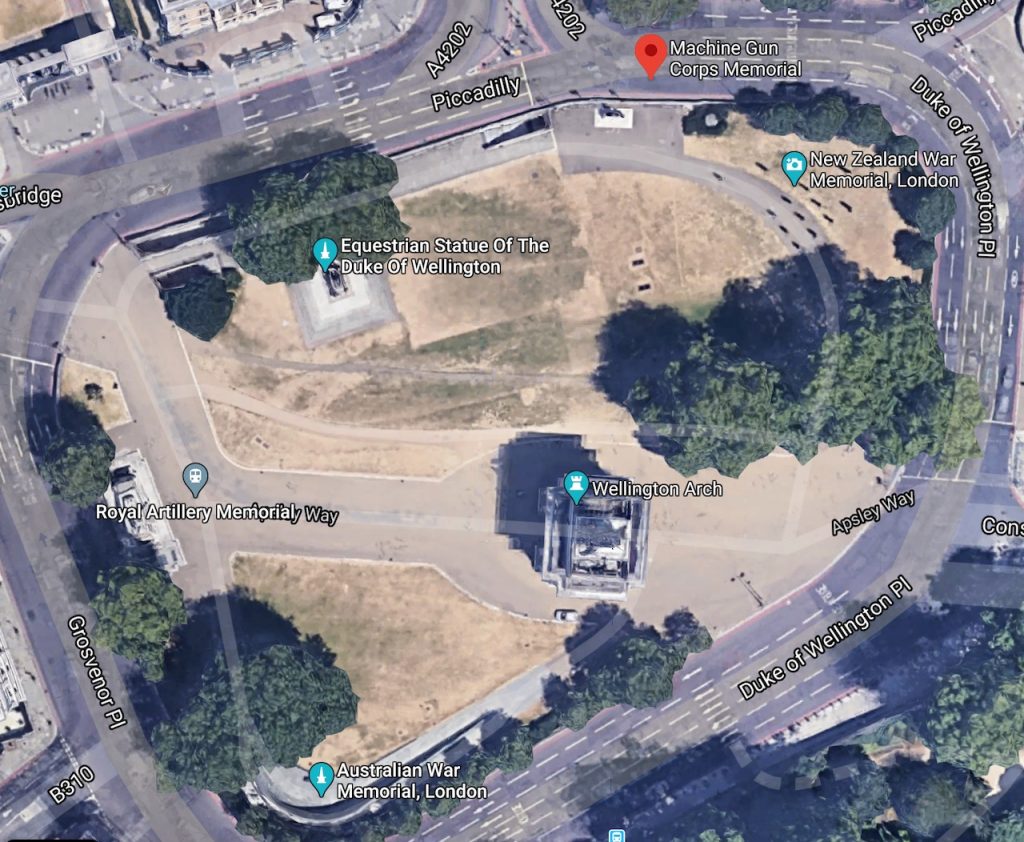 ▪️ Hyde Park Winter Wonderland – I would say one of my fave activities when in London. Though it was drizzling and cold – we still managed to explore the beauty of this Winter Magic event held in Hyde Park. Apart from small shops, food, and drinks – the rides' definitely winner. It's for everybody!
Typically opens from Mid-November to early January each year.
No Entrance fee but the rest, you have to pay.
---
DAY 10
On this day, we also started quite late around 3pm and though the day is shorter as per usual. We still managed to see/visit a few places.
▪️ Kensington Gardens – one of the largest Royal's parks and a great place for a leisure walk, picnic, and run. During our visit, I can't really say that it's a great garden I guess coz of the weather; gloomy. But other than that, really loved how spacious and you'll see plenty of birds too. When planning to visit, make sure to check their site. During winter timer, they can close as early as 4pm. So I would suggest being there on/before lunchtime, perfect timing as well to visit the palace after.

▪️ Kensington Palace – home of Royals. Very unfortunate, we're unable to visit inside coz we lost time while exploring the gardens. It closes at 4pm, so make sure to plan it earlier 😉. There's also an entrance fee, check the link for more details.

▪️ Albert Memorial – while heading to Kensington Palace, we saw this memorial and decided to visit first. A tribute to Queen Victoria's late consort, Prince Albert of Saxe-Coburg-Gotha.

▪️ Royal Albert Hall – opposite the Albert Memorial, is London's most iconic concert hall venue.

▪️ Imperial College London Statue – we passed by this public research university. legally known as Imperial College of Science, Technology, and Medicine.

▪️ Royal College of Music – another great building that we pass by. One of the world's great conservatoires, training gifted musicians from all over the world for international careers as performers, conductors, and composers. Are you a music history fan? Consider this as a great place to visit.

▪️ Science Museum (Part 1) – if you're planning to visit this place, consider it a 1 day (in my opinion) to complete exploring including breaks. And it's not only meant for kids – it's meant for everybody. You can do and see a lot of things in here from an interactive /object gallery, to some special events or exhibitions (charges apply). And since we got here at 4pm, we spent only 1 hour exploring. We decided to continue the next day since we no longer staying nearby and have to catch the tube/underground before it gets late.
---
DAY 11
On this day, we went to 2 museums next to each other for about 4hours that we spent for exploration. As we had a dinner appointment in the evening. So we tried to see as much of these 2 museums.
▪️ Science Museum (Continuation) – we lost monitoring the time and ended up spending 3hrs here. Just so many things to see, I am like a kid who've been in the Carnival for the first time 🤩😍.

▪️ Natural History Museum – another huge museum next to the Science Museum, home to scientific history collections; botany, entomology, mineralogy, paleontology, and zoology. Famous for its exhibition of dinosaur skeletons and ornate architecture. The night before our visit, Coldplay has played a one-off show here and I'm so sad that we've missed it 😑.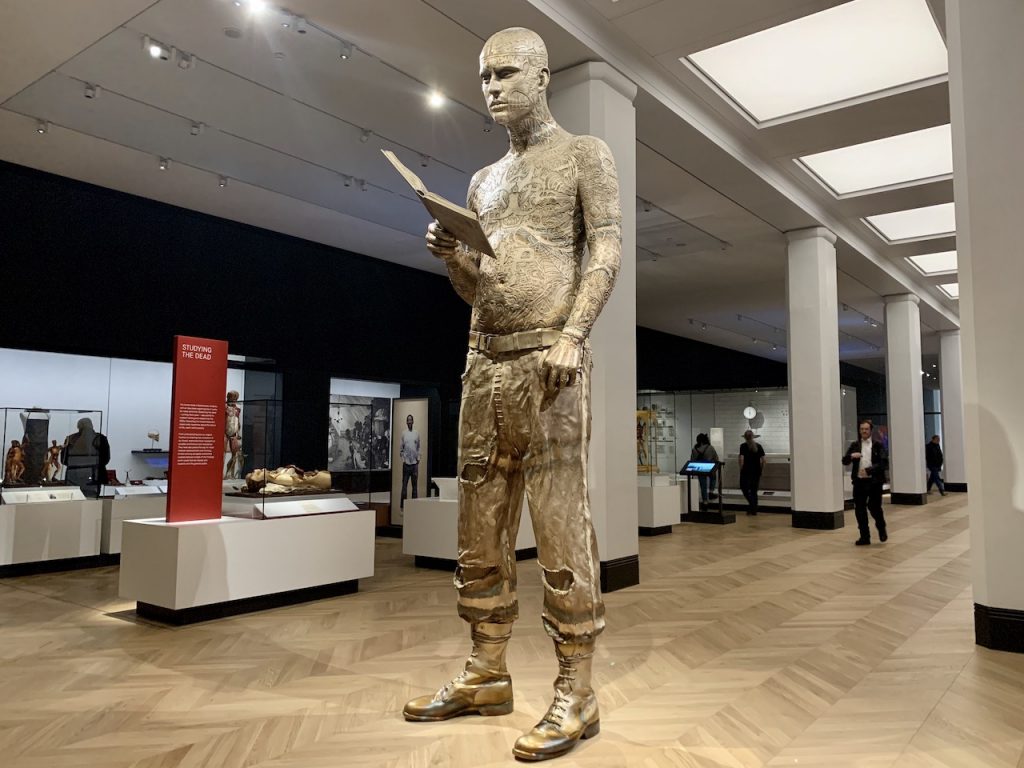 😋 🍽️ FOOD ALERT! CAFE IN SCIENCE MUSEUM: GALLERY CAFE
◼️ I must say that we're both impressed and shocked in a good way, how good and tasty the food here. Decent price to get an almost fresh sandwich, pasta, pizza, soup, hot and cold drinks. And don't forget variety of yummy desserts. And oh, try this chocolate cake picture below (forgot the name 😅) so moist, soft, and not so sweet and felt like a celebration in our mouth 😋🍰.
---
DAY 12
This day considered our last adventure to explore London. From one place to another by walk only…And we started pretty late at around 12pm.
▪️ London Eye – also known as the Millennium Wheel. Observation Wheel located in South Bank of the River Thames in London. A must-see to have a fantastic view of London. We managed to get here with less crowd as it was drizzling during that time.

▪️ Jubilee Gardens – a small public garden next to the London Eye. I supposed that during the sunny time, people spend time here for a picnic, leisure walk, and running. Or simply a place to relax and chill.

▪️ Covent Garden – about 17mins by walk from Jubilee Gardens. Not only a shopping destination for luxury fashion and beauty brands but also a place with plenty of street entertainers and small shops to see.

▪️ Jubilee Market – located in Jubilee Hall next to Covent Garden that offers arts, crafts, clothing, antiques, food, and drinks stalls. You can see some souvenir shops too.

▪️ London Transport Museum – this museum is just next to Jubilee Market and Covent Garden. To understand the history of London's transport, definitely a must-visit place. We just passed by as we're clueless what to expect inside. And again, since daytime is shorter here – we always want to maximize exploring outside.

▪️ Leicester Square – about 6-7mins walk from Covent Gardens. This is one of the busiest places in the center of London where most tourists go to do some shopping, food, drinks, some entertainment or to enjoy theatrical shows. Also, it's walking distance through Piccadilly, Trafalgar, and Buckingham Palace. There are plenty of street entertainers to witness as well.

▪️ St. James's Church Piccadilly – an Anglican church on Piccadilly in the center of London, about 7mins walk from Leicester Square and when we got there, just got closed and so we missed exploring inside. I'd say that during winter time their closing time changes, so make sure when you're planning to visit either 11am or afternoon time before 4pm.

Since this is the center of London, we see Oxford Street, Regent Street, and Piccadilly Circus again but this time in evening view 😍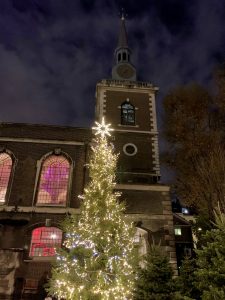 ---
DAY 13
Cambridge Time! Where you can see prestigious universities in the country. To get there, please check Travelling to Cambridge. Apart from the universities, we've also able to see plenty of amazing churches, restaurants, shopping centers, some souvenirs shops, and boutiques.
I would recommend starting early heading to Cambridge or else spend 2 days if you're going to start late like us. So you can explore fully.
Universities
▪️ Jesus College
▪️ St. John's College
▪️ Trinity College
▪️ King's College
▪️ St. Catharine's College
▪️ Corpus Christi College

Other Attractions:
▪️ Round Church – the second oldest building in Cambridge and one of only four round medieval churches in England. Worth a visit.

▪️ Great St. Mary's Church – a university church located at the heart of Cambridge. Make sure not only to visit but also to climb the tower to see/witness a panoramic view (charges apply).

▪️ Senate House – used to be for meetings of the Council of the Senate, but now used mainly for degree ceremonies. You need to book this place when you want to explore the inside.

▪️ The Corpus Clock – a.k.a Grasshopper clock, a large sculptural clock that definitely will catch your eyes when you're roaming around especially when you're near Corpus Christi College – it's just opposite of it. The clock is entirely accurate only once every five minutes. Great piece of art.

▪️ Cambridge Punting – a.k.a boating, another way to explore and to see the other view/side of Cambridge.

▪️ St. Botolph's Church – parish church is also known as "Boston Stump" and another church that offers Tower view (charges apply), to climb it on your own. And to have another panoramic view of Cambridge.

▪️ Cambridge Market Square – a.ka. Market Hill, selling a wide range of goods like second-hand books, vinyl, CDs, DVDs, clothes, jewelry, bags, fresh fruits, vegetables, organic products, arts, and crafts. And much more, worth a visit.

Shopping Center
▪️ Lion Yard and Grand Arcade – Interconnected malls that offer a variety of fashion, accessories, beauty, electronics, souvenirs, cafe and a few restaurants. We bought our chocolates there @ Hotel Chocolat.
😋 🍽️ FOOD ALERT! MUST VISIT AND TRY: BREAD AND MEAT
We're very glad that we went to this place by accident as we're supposed to go to the opposite restaurant but it was closed. I loved the butcher-style ambiance, simplicity of the place and friendly staff. We loved the food that we've ordered as well; Honey Soy Chicken the flavor just balanced each other not too sweet not too savory. And the meat's so tender. And Poutine Porchetta, with the gravy, chips and crackling skin and tender meat – another piece of celebration. Hot tea as our drinks just perfect to warm our body while on break 😍
---
DAY 14
This considered our schedule to fly back to Singapore in the evening. So we decided to roam only around the area where we staying. To walk in the parks, coffee breaks and roaming around the center.
Hoddesdon is a town in Broxbourne borough of the English county of Hertfordshire. This where we stayed for the 2nd week and really nothing much to see but we still explore just to be outside as well. In case you're wondering how far it is from the city of London – it's about 1hr via tube/underground.
️▪ Barclay Park – a small park around the neighborhood, wasn't the best weather to have a walk around this area but good enough to have a leisure walk and watch these beautiful swans.

▪️ Hoddesdon Center – apart from the weather so gloomy, not so much to see and do here. In this photo, you see War Memorial on the left; commemorates the residents of Hoddesdon who died in WW1 and WW2. And on the right, Clock Tower; built in 1835 on the site of a former medieval chapel, now a central plaza.
😋 🍽️ FOOD ALERT! MUST VISIT AND TRY when in HODDESDON for DESSERTS: NONNA'S KITCHEN
◼️ We only came here for dessert and coffee break. And ordered Cannoli, eclair, and coffee. You can see that it's quite a generous filling and can be quite heavy as well. Great ambiance, alright staff, and decent price.
And those are the places where we went to in 2 weeks trip!!! I hope you find it valuable when you're planning to visit UK 😍.
If you want to add-up something or you think I indicated wrong info – please drop a comment below 😇

Make sure to follow my social media accounts as well where I post my favorite traveling experiences 📷, my new music covers, and of course my cooking clips 🎙️
– Instagram, Pinterest, Facebook, Youtube, and Twitter
Photographs
All photos taken by me and only using my iPhone. Basic filter used and portrait mode – to enhance the quality of the subject.